James Whales' Frankenstein starring Boris Karloff is 80 years old this week. DAVID SAUNDERSON explains what the legendary Universal Horror means to him…
MY introduction to Frankenstein was as a small child at our local library.
I must have only been seven or eight years old when I first saw the poster of the Monster on the library wall and straight away I was scared.
That tatty movie poster showed a tall, gaunt, ugly-looking figure lunging over a frightened woman.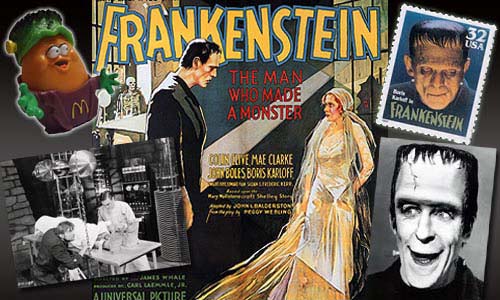 It was such a stark image – the figure looked like a monster but he also looked like a man.
First the poster made me nervous but at the same time I felt the urge to keep staring at it.
It was though I found it fun to be scared. It was all a very uneasy situation.
Celebration of Frankenstein 1931
This week celebrates the 80th anniversary of James Whale's Frankenstein original release in November 1931.
Even though I was too young to understand it at the time, my fascination with the Frankenstein library poster linked me with millions of people across the planet.
For now 80 years, people have been both horrifed and charmed by the story of the man who knew "what it felt like to be God", his child-like creation, who only wanted a friend and how it all turned into a big terrible mess.
We tend to forget the terror and uneasiness Frankenstein caused when it was released during the Great Depression, considering its now almost cartoon-type quality. But I suppose we can look to the reaction to films like Human Centipede to give us some idea.
Remember, Frankenstein is a story about a doctor cutting up dead bodies and sewing them back together to make a new one.
Frankenstein (1931) might not be as physically-sickening as Human Centipede but it caused sensation back in its day.
Universal Picture's version of the Frankenstein monster, created by makeup genius Jack Pierce, is a 20th Century icon. The flat top head and bolts in the neck aren't in Mary Shelley's novel but that image is indelibly etched into our minds.
Universal Picture's version of the Frankenstein Monster has been plastered over toys, t-shirts, breakfast cereals, movies, cartoons and even on postage stamps! It is a far cry from the horror of Mary Shelley's Modern Prometheus – the subtitle of the original book.
Frankenstein made a star of Boris Karloff
The film was the follow up to Universal's sensationally-popular Dracula (1931) and made an instant star of British-born actor Boris Karloff.
It is now consideration one of the greatest films of all time.
It was the first horror film I ever saw and it remains one of my favourites.
There is no better time than now with Flat-top Frankie's birthday to launch The Spooky Isles, my new blog about British and Irish spookiness.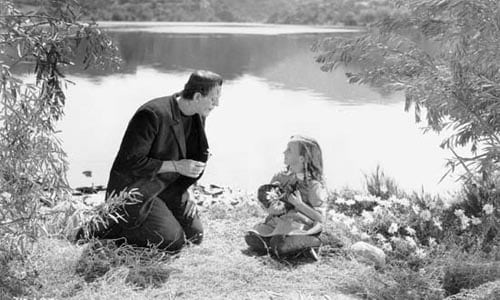 Frankenstein (1931) wasn't a British film but its director and main stars (Colin Clive and Karloff, for instance) were.
And of course, the book Frankenstein is one of the most famous of the English gothic novels of the 19th century.
Anything Frankenstein can rightfully go in a British Horror blog.
I haven't watched Frankenstein (1931) all the way through for a few years and I intend to in the next couple of days. It will be a fine way to celebrate its 80 anniversary.