SHRIEVE'S House in Stratford-Upon-Avon is considered one of England's most haunted properties. To discover its secrets, a filmmaker has spent the night in the Tudor building to see what goes boo!
Personal Ghosts, a new 52-minute documentary, is the result of Dave Mitchell's paranormal investigations.
The documentary tells the history of the 15th Century Warwickshire house, including interviews with people who've experienced sightings, as well as footage of Dave's own solo overnight stay.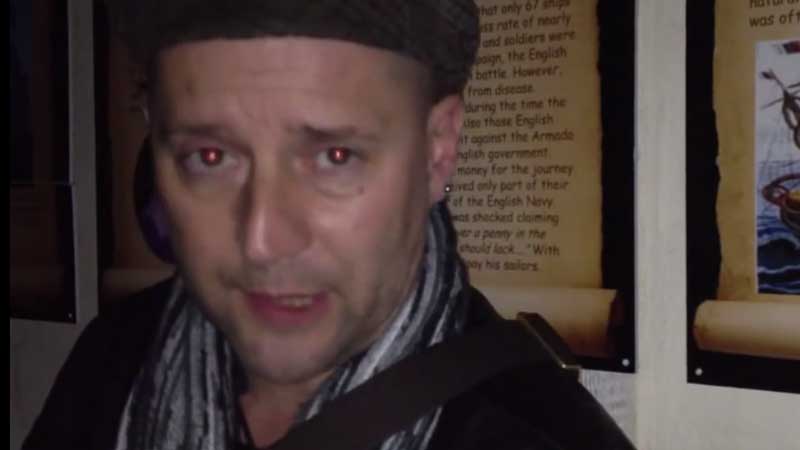 Dave told Spooky Isles he was fascinated by the idea of filming in a haunted house.
"I'd reached a point where my own beliefs had faded, due to personal circumstances, and I thought that if I could experience something in Shrieve's House, then maybe my own beliefs would be restored."
Shooting on the iPhone 4S, Dave was given full access and an overnight stay in the property.
"Owners John and Janet were great. The worry was that I would try and debunk the house and its reputation. That was never my intention – I wanted it to be true. The place has a history. John Davies, a 17th-century serial killer; a little urchin girl called Lucy; a Dutch soldier who hung himself; they've all been seen time and time again."
Personal Ghosts was Dave's first venture into a supernatural documentary.
He said: "I've had feature films made, but this was new territory. I interviewed Michael Chapman and his daughter Melissa, who famously spent the night there on Halloween 2004. Thirty people were going to stay the night. Within a few hours, all but the Chapmans had left because of what they were experiencing. They were terrified. The Chapmans stayed and this was the first time in seven years they had returned to Shrieve's House to talk about that night."
For Dave, the most curious part of his night alone in the house was making contact with the little girl Lucy.
"I had a crystal on a chain and asked Lucy to move it. It started spinning in the air. No trick, just her moving it. I have no explanation except that it was Lucy's ghost moving the crystal and it's all on camera."
Dave said he hoped the documentary would encourage others to find out more about Shrieve's House in Stratford Upon Avon.
"I hope Personal Ghosts makes people visit the house, themselves. It would be great to make more films on this subject.
"I was respectful; perhaps that's why the spirits were kind to me?
"Maybe the next place I film, the ghosts might not be so friendly?"