---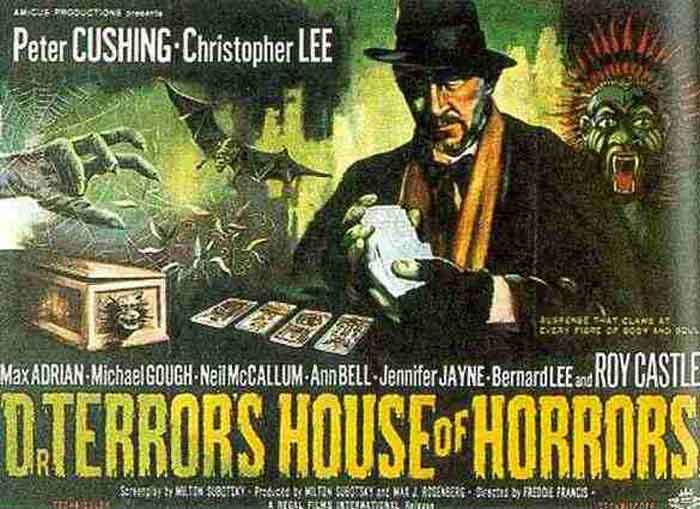 ---
Title: Dr Terror's House of Horrors
Year Released: 1965
Director: Freddie Francis
Cast: Peter Cushing, Christopher Lee, Max Adrian, Ann Bell, Peter Madden and Donald Sutherland
---
The first of the Amicus anthology horrors, Dr Terror's House of Horrors (1965), delivers a train ride of spooky fun
---
Dr Terror's House of Horror is the first of Amicus Productions' legendary portmanteau films – taking a range of short horror stories and wrapping them into one film.
Great horror stars like Peter Cushing, Christopher Lee and Michael Gough took a vacation from their duties at the House of Hammer during the mid 1960s to take part in Milton Subotksy's train ride of horror fun.
The idea for the film had begun in the late 1940s, when Subotsky saw Dead of Night (1945), the legendary British portmanteau horror film which he believed was the greatest of all time. Subotsky originally considered it to become a television series but turned it into a film instead.
Directed by Freddie Francis, Dr Terror's House of Horrors tells five short stories, born out of tarot predictions by the mysterious Dr Schreck (Peter Cushing).
Sharing a carriage on a train journey, metaphysician Dr Schreck tells his fellow passengers that the tarot deck can reveal their futures and how to change these futures. As in any horror film, the futures are not happy ones.
Each of the five horror yarns is short and snappy; they are more fun than horrific. In this day and age they would be considered quite silly. Dr Terror's House of Horrors could easily be shown on a Saturday afternoon on television.
From vampires to bodiless hands to voodoo gods to murderous plants to Scottish werewolves, Dr Terror's House of Horrors has something for everyone.
The outcomes are quite predictable but the sheer nonsense and audaciousness of the subjects make this a very watchable horror.
Dr Terror's House of Horrors may not be the greatest horror film of all time, but in terms of horror fun, it is one of the best.
---