ANDREW GARVEY takes a look at the first episode of the hotly-anticipated new BBC series, Jonathan Strange and Mr Norrell
Announced in 2012 and filmed in late 2013, it's taken a while for this seven-part BBC adaptation of Susanna Clarke's monumentally-hyped 2004 novel to make it onto my television screen. In all that time I could easily have read Clark's 780+ page, multi-award winning book.
But I didn't.
So, untainted by any expectations, and unbothered by this minor character being left out or that bit of the narrative messed about with, every week I'll be looking purely at the television series. There will inevitably be some spoilers but I'm not going to recap every single thing that happens. Instead, I'll go over a little of the story and offer a few thoughts as the weeks progress.
John Segundas, after failing to get anywhere with a spot of conjuring, rushes off to a meeting of the York Society of Magicians to ask them why magic no longer exists. Mocking and jeering him like they're the backbenches of the House of Commons after a long liquid lunch they point out that the study of magic is one of history and theory, not practical, everyday deeds. Astronomers don't create new stars and botanists don't invent new plants, nor, in this recognisably early nineteenth century England, do magicians perform any actual magic.
Luckily for the crestfallen Segundas, one of the Society, Mr Honeyfoot (a nice Dickensian touch, giving nice characters pleasant sounding names – I fully expect the reverse to happen and look forward to seeing a villain named Edmund Evilgrunt at some point) takes pity on him and agrees to travel with him to see the man – Mr Norrell – who has been buying up all of the city's books on magic.
Arriving at Norrell's home, Segundas and Honeyfoot are both in awe of his vast library of books on magic, and start expositioning their little heads off, explaining TO SOMEONE WHO IS OBVIOUSLY AN EXPERT ON MAGIC that English magic died out 300 years ago and telling him "we wish to know my magic has fallen from its once great state. We wish to know why is there no more magic done in England".
Norrell dismisses them and their question, off-handedly declaring that he's a practical, practicing magician. Pressed (presumably by either Segundas or the doubting Society, but it's hard to tell as we just jump from one thing to another) to prove his claim, Norrell has the Society meet him late on a cold and snowy night – of course – for a pretty convincing (and visually impressive) demonstration at York Minster.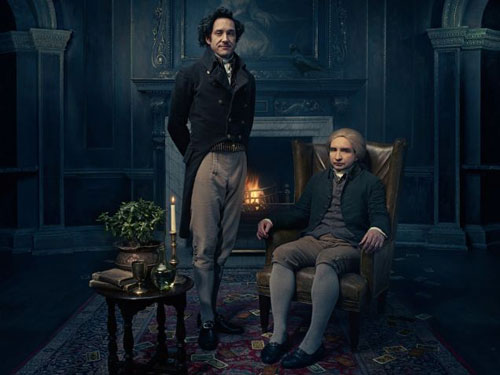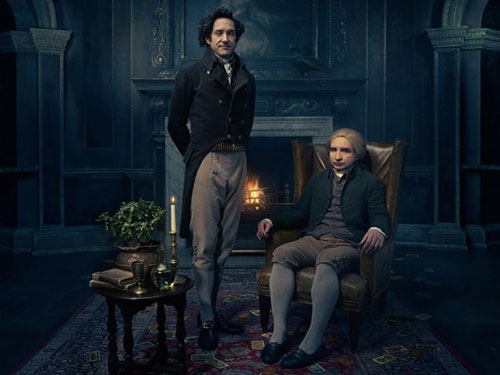 After this, we meet Strange, who doesn't seem to have a magical bone in his body and whose crusty old father dismisses him as "weak and skittish, destined to fulfil no more useful function than a clotheshorse." Obviously, the old man, who isn't long for this world, doesn't know as much as he thinks he does.
Anyway, that's enough of the storyline. For one thing, I said I wouldn't bang on about it and for another, a straight recap of such a packed 60 minutes would go on for far too long. So, what's good about it? Mostly everything, really.
The quiet and reclusive Mr Norrell is played by Eddie Marsan, who gets supporting/character roles in dozens of films and TV shows and may be most recognisable as Inspector Lestrade in Guy Ritchie's Sherlock Holmes films, is quiet and understated as the reclusive magician while our other titular character, Jonathan Strange (Bertie Carvel) is clearly more expressive but, aside from a few good lines and establishing himself as a fundamentally non-serious wastrel has little to do. Obviously he'll take centre stage more and more as the episodes pass. Seeing the two of them together should be fun.
Thankfully Segundas seems to have disappeared already – a good thing too, given his irritating habit of over-enunciating his words in a sort of shrill, surprised yelp, like a perpetually frightened/surprised Jane Austen character. Much more of him and I'd have been throwing things (insults mostly, but possibly heavy objects) at the television.
Norrell's overly-assertive manservant Childermass (Enzo Cilenti) who, it's blaringly obvious, will play an important role throughout, might be the most thoroughly northern man I've seen since Sean Bean reacted to his own death in Lord of the Rings by flatly declaring 'eeh, by gum, little Frodo, I've got an arrer in me'.
Two of the supporting characters are great fun and hopefully will stick around for a while. Norrell's newfound fame and move to London bring him to the attention of the salon socialites and one of them, Christopher Drawlight, takes it upon himself to properly introduce Norrell to the party scene. A braying buffoon in a powdered wig, Vincent Franklin (so funny as preposterous PR guru Stewart Pearson in BBC political sitcom the Thick of It), plays Drawlight like Hyacinth Bucket. And he looks a lot like her too.
Paul Kaye, an actor/comedian with more than a touch of the unhinged about at the best of times, is great as rambling, prophesying madman and street magician Vinculus. A dirty-looking, mumbling, yelling, threatening mischief maker who likes to go on about someone called the Raven King, Kaye is perfectly cast and looks as if he's having the time of his life.
There's some great lines and some gently amusing humour and, that awful bit of exposition in Norrell's library aside, the script is very polished. The special effects are sparingly used but effective and the costumes are up to the usual BBC period drama standards. Although there's one character (some kind of magical elf or fairy by the looks of it) that seems to have been costume-designed by someone who's watched far too many old David Bowie videos.
As a first episode, this was a hugely promising, imaginatively entertaining introduction to the slightly skewed world the story inhabits and, while not exactly counting the hours and minutes until episode two, I'm definitely interested to see what happens next week.
---
Jonathan Strange and Mr Norrell continues on BBC One each Sunday at 9pm and is coming to DVD and Blu-ray on 29 June. It is available from Amazon on pre-order now.
---
Read all our reviews of Jonathan Strange and Mr Norrell:
Jonathan Strange and Mr Norrell Episode 1 Review
Jonathan Strange and Mr Norrell Episode 2 Review
Jonathan Strange and Mr Norrell Episode 3 Review
Jonathan Strange and Mr Norrell Episode 4 Review
Jonathan Strange and Mr Norrell Episode 5 Review
Jonathan Strange and Mr Norrell Episode 6 Review
Jonathan Strange and Mr Norrell Episode 7 Review