TITLE: The Others
YEAR RELEASED: 2001
DIRECTOR: Alejandro Amenábar
CAST: Nicole Kidman, Christopher Eccleston and Fionnula Flanagan
MARK FRYERS reviews The Others, the perfect gothic shocker to watch by candlelight…
At the turn of the last century, against a background of pre-millennial tension, the horror film enjoyed a renaissance, the reverberations of which we are arguably still enjoying today.
In particular, the stripped-back ethos returned after lots of lavish, big-budget gothic melodrama's (Bram Stoker's Dracula, Interview with the Vampire) as evidenced in the post-modern slasher Scream (1996), and in particular, the found-footage histrionics of The Blair Witch Project (1999), which also utilised the nascent technology of the internet to promote its charms.
In the same year, the traditional ghost story also made a welcome return in M. Night Shyamalan's The Sixth Sense, as if to remind humanity of its catalogue of historic wrongs as it grappled with the twin fears of the Y2K virus delivering us back to the stone age (unfounded, as it transpired) or a future heavily mediated by technology.
Two years later, another welcome entry in the modern ghost-story appeared in the shape of Alejandro Amenabar's The Others, which starred Nicole Kidman and Christopher Ecclestone and was co-produced by Kidman and Tom Cruise.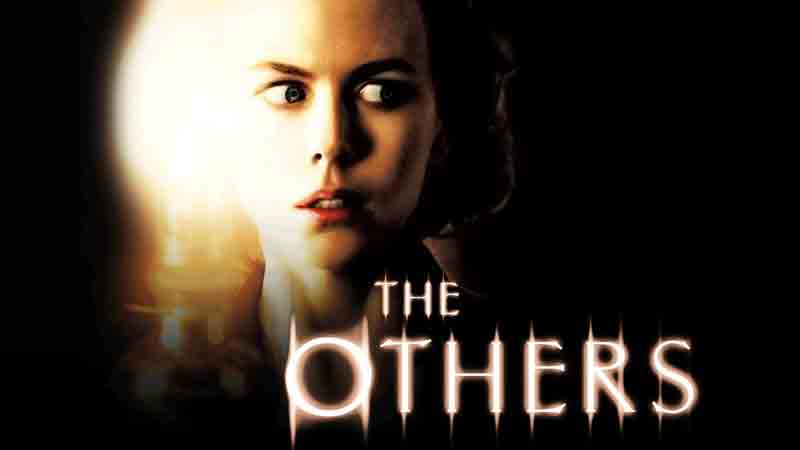 Set in a remote house in the fogbound channel island of Jersey (and filmed there, as well as Spain and Kent), the film's otherworldly quality is compounded by the fact that the house is shrouded in a permanent state of self-imposed darkness. This is the first masterstroke of Amenabar's conceit, as it is explained that Grace's (Nicole Kidman) two children are photosensitive and therefore cannot be exposed to natural light.
This obviously allows the film to exist in a world of shadows and ambiguity, with many scenes benefitting from the eerie atmosphere of candlelight, as the characters seem to be in a state of constant limbo, waiting for something even more terrible to happen.
Ostensibly, they are waiting for Kidman's husband to return from the very real nightmare of WWII, whilst the housekeeper Mrs Mills (Fionnula Flanagan) and groundsman Mr Tuttle (Eric Sykes, apparently at Kidman's insistence) seem to know more than they are letting on, whilst Grace is convinced the house is haunted by its previous occupants
Handsomely mounted, intelligently conceived and thoughtfully performed, the film's tone is both rich and unsettling and full of, what are now surely, classic moments. Foremost amongst these are the misty scene whereby Grace encounters her husband in the grounds of the house, the scene in which she finds an old Victorian book full of photographs of corpses and most famously, the scene in which her daughter plays with a puppet whilst a veil obscures her face.
Although full of eerie moments, it is grounded in the acting talents of the small ensemble cast and anchored by Kidman's performance in particular, which combines domineering and borderline aggressive maternal care with emotional fragility.
It is rumoured that Kidman actually quit during rehearsals, as she was reticent in dealing with the film's literal and metaphorical darkness, at a time when her marriage to Tom Cruise was ending.
Performances build to shocking conclusion
Yet her performance is critical in helping the film to convincingly build to its unflinching conclusion, which is as sad as it is shocking.
Much credit must also be given to writer-director Amenabar for conjuring such a powerful story in a haunted-house scenario so beset with cliché and existing in the shadow of such classics as The Haunting, The Shining and countless others.
Such is his command of the material, the settings and the mood that it is easy to forget that, despite the English-language format, this is actually a Spanish film and quite different from Amenabar's previous horror entry Thesis (1996).
However, it is less-known, and even less-acknowledged, that the film is actually a kind of remake of an old Armchair Theatre episode of the same name from 1970 (directed by Piers Haggard, of Blood on Satan's Claw Fame) which itself was re-made as the film Voices in 1973, with David Hemmings.
Notwithstanding this, The Others is simply a highly accomplished film that relies on the traditional virtues of an intelligent script, atmospheric staging and quality performances.
The Others is also a perfect film to watch by candlelight, making it highly recommended Halloween viewing or indeed on any other long winter night.