The Selkie Wife
---
Selkies are beautiful Scottish sea creatures. JON KANEKO-JAMES says you can make wives out of them if you can find them without their skin
---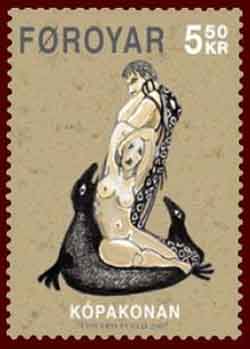 Take a look at the image at the top of the article here. It's a woman, draped at the feet of a man wearing a cloak. It has a touch of the 1970s about it, like the cover of a fantasy novel that makes you wonder if the artist should have stopped for a cold shower. Except the closer you look at it, the more WRONG you see: for example, yes, she's naked, but she doesn't look happy… in fact from the way she's grabbing onto his arm, it might almost be as if he's dragging her by the hair. Oh, and then there's her face: 'not happy' is an understatement, she looks like an early version of Munch's The Scream.
So, who is this woman, what's going on?
It's simple: she's a Selkie, a beautiful and innocent water spirit, what's going on is that she's being dragged off into a life of sexual and domestic slavery. Not the good kind of slavery, where there's a safe word and lots of special equipment ordered off the internet, this is the full Fritzl: the Orkney Islands story of Goodman O'Wastness is a great example.
Goodman is a cold fish who shuns the local girls and goes on about how women are evil and Eve was the one who spoiled everything for Adam, so chicks are bad and no man should get married.
Except this great, standup, and totally non-misogynistic, guy is out walking by the seashore when he sees a bunch of Selkies playing by the waves. Unlike some other sea people the Selkies are pretty safe. When you capture them, blackmail them into having sex with you and keep them prisoners for 20 years, forcing them to bare your children, they just pine for the sea. They never, for example, cave your skull in while you're sleeping, or cut your balls off and suggest that if you tell them where their skin is they'll let you cauterise the wound with a flat iron.
Related Posts via Taxonomies