The Black Lady of Broomhill House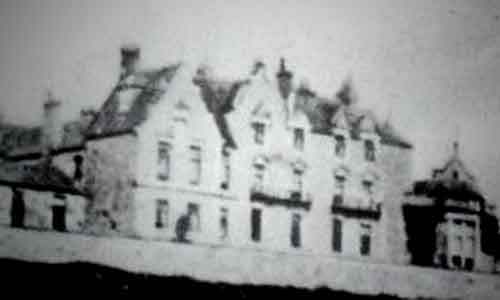 ---
MANDY COLLINS tells us the sad and spooky Scottish tale of The Black Lady of Broomhill House
---
Broomhill House used to dominate the landscape at Larkhall, a small mining town close to Glasgow. These days, although the house lies in ruins, it remains the haunt of a ghost called the Black Lady.
The Black Lady's tale is a sad one. Helen Sykes researched it, a local with a strong personal link to the story. Her grandmother, Helen Perry, had been in service in Broomhill for seventy years and knew the woman who is now believed to be the ghost. Ms Sykes was inspired to research the legend further after a series of dreams, which she associated with the stories her grandmother had told the family of the Black Lady.
The Black Lady was an Indian woman called Sita Phurdeen, who arrived at Broomhill in 1902 when it's last resident, Captain Henry McNeil Hamilton, retired from the army. They met when the Captain was in service in South Africa during the second Boer war. It's believed they were lovers. The Captain was already in an unhappy marriage. Sita was brought to Broomhill as his mistress, though under the guise of a servant. But she wasn't there long.
Helen Perry recalled seeing Sita at 10pm one night, following the evening meal. The next day, Sita was gone. Asking around, Mrs Perry was told that Sita had been unhappy and left. This seemed strange to Mrs Perry, as the last train from Larkhall was at 9pm. No one had seen Sita walk the considerable distance to the train station. Nor had the horses and carriage been out. Local rumour claimed that the Captain, remembered as an unpleasant man with a vicious temper, murdered her. When he died prematurely in 1924, it was a low-key funeral; his family avoided Broomhill House afterwards. It was badly damaged by fire in 1943 and left to ruin.
"The ruins of Broomhill House are said to have an evil aura by many psychics, which they blame on black magic being practised there."
Ghost stories abounded. Many people reported seeing Sita's wraith flitting about. In 1954, one local girl, Jean, encountered her twice. The first time was at a gathering in the ruins. It had gone awry. Jean was leaving when she walked into the Black Lady. They looked at one another before the ghost pointed to the ground between them. Jean didn't hang around after that, but she later returned alone to the same spot. The Black Lady reappeared and began pointing to the ground again. The she pointed behind Jean, who turned around to see thirteen ghosts sitting on the slope behind her!
Related Posts via Taxonomies