The Killing of Annie Chapman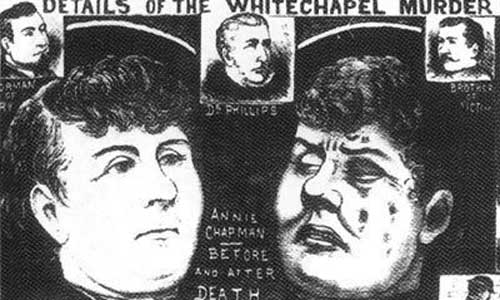 ---
Ripperologist JON REES looks at the killing of Jack the Ripper's second victim, Annie Chapman on 8th September 1888
---
8th September 1888, 6am
John Davis, one of residents of number 29 Hanbury Street entered the backyard of the house he shared with 16 other people when he discovered the backdoor open. Davis had had a restless night, having been awake for most of it and had been walking back and forth for several hours. The sight that greeted him when he entered the yard would probably ensure many more restless nights of sleep, for he found the second victim of the killer who would become known as Jack the Ripper, 47 year old Annie Chapman dead at the foot of the steps into the yard. Her throat had been cut and she had been disemboweled.
Annie was a casual prostitute and an alcoholic like the previous victim who lived in a common lodging house on Dorset Street. Hours before her death, Annie was drunk and turfed out onto the street after not being able to pay her doss money for her bed – no doubt she then took to the street to find a client so she could afford her bed for the night.
Her friend Elizabeth Long claims to have seen Annie approximately half an hour before her body was discovered, standing outside 29 Hanbury Street with a man. She overheard the man ask "will you?" and Annie answer "yes". In all probability Elizabeth Long witnessed Annie Chapman standing there with her killer – the elusive Jack the Ripper.
Related Posts via Taxonomies