Guest writer ROSIE McCLUNE says Haunted Glasgow is no mean city when it comes to hauntings and paranormal events. 
Scotland is well known as one of the most haunted countries on earth. The City of Glasgow is no exception.
Situated on the River Clyde, Glasgow has slowly grown over the centuries from a humble fishing village into the Second City of the Empire.
It is now, a bustling, contemporary, metropolitan city. It is a town which is well known for shipbuilding, "passionate" citizens and deep fried Mars Bars suppers.
Being a city so rich in history and retaining many of its original ancient buildings, of course there are going to be many tales of the spooky and paranormal, wherever you go. Here are some of the most popular.
Southern Necropolis
Glasgow city centre is home to two large, Victorian cemeteries. The Necropolis and the Southern Necropolis (Necropolis meaning City of the Dead). Located in the Gorbals area, the Southern Necropolis is reputedly home to White Lady. As the story goes, the White Lady is a stone memorial in the shape of a veiled lady in the resting place of John S. Smith, his wife Magdalene and their housekeeper, Mary McNaughton. Magdalene and Mary were both tragically killed when they were hit by a tram car in 1933. Many witnesses have reported seeing the  statue of the White Lady turning her head as they walk past and at night time have seen a white figure float through the cemetery then disappear into thin air. Could this figure be one of the ladies who was so tragically killed in the accident?
Dalmarnock Bridge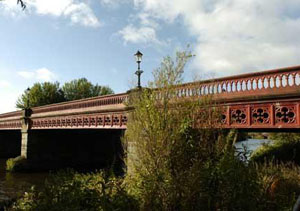 Dalmarnock Bridge is one of eight bridges built over the Clyde, connecting Dalmarnock and Rutherglen on the South Side. The bridge was built in 1891 and has been more recently refurbished in the 1990s, however, it still retains many of its original Gothic features. Many witnesses have reported seeing a solid young man, perhaps in his 30's, wearing black clothes, staring over the side of the bridge into the water then suddenly jumping over and vanishing before he hits the water. This sighting has been reported by many people though no-one has ever been able to learn the identity of the man nor the reason why he jumped.
Scotland Street School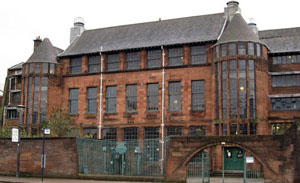 Located in Glasgow city centre, Scotland Street school was designed circa 1903 by one of Scotland's best known architects, Charles Rennie Mackintosh. It closed down for teaching in 1979 and has been turned into a museum, giving people a glimpse of school life throughout the 20th Century with its reconstructed classrooms, and stories from teachers and pupils who attended the school. The school has already been subject to several paranormal investigations, with witnesses hearing strange noises/footsteps when no-one else was in the building, objects moving from place to place, and shadowy apparitions.
Old Transport Museum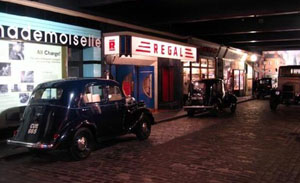 The Transport Museum has recently relocated from its former home in Kelvin Hall to the Riverside Museum on the Clydeside. The old building was built in 1927, and it is known that it was used as a mortuary in World War II. One of its main features was the recreation of a 1930's Glasgow street, including cobbles and shops. Night guards have reported seeing balls of light travelling quickly down the cobbled street, noises have been heard when no-one else was present, footsteps running down the cobbles, children's laughter, a headless figure was even seen. Some witnesses have also reported being tapped on the shoulder when there was no-one behind them.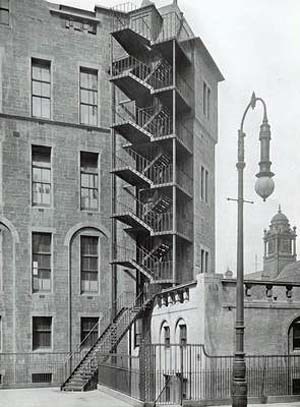 Western Infirmary
Hospitals seem to be a hotspot for paranormal activity, and the Western appears to be no exception. A renowned surgeon named Sir William MacEwan apparently refused to operate on a young artist who was suffering severe headaches. The artist unfortunately took a headache just after talking to Sir William and fell down several flights of stairs and died. Sir William was full of guilt for the loss of the artist and allegedly hung himself in the now demolished A-block theatre. Nurses have reported seeing a white figure moving down the corridor along with the smell of cigar smoke, which Sir William smoked regularly.
ROSIE McCLUNE is a Scottish musician who has a lifelong obsession with the paranormal, horror films and chocolate.