Reading Time:
2
minutes
ANDREW GARVEY reviews The Thirteenth Reunion, the second episode in Hammer House of Horror Television Series

Title: The Thirteenth Reunion
First televised: 20 September 1980
Director: Peter Sasdy
Screenplay: Jeremy Burnham
Starring: Julia Foster, Dinah Sheridan, Richard Pearson, Norman Bird, Warren Clarke, George Innes, Gerard Kelly and James Cosmo.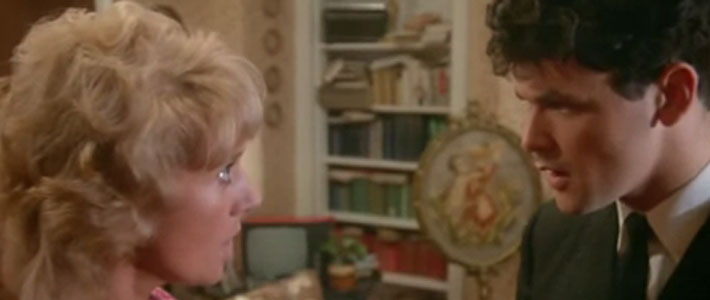 Plot of The Thirteenth Reunion
Fleet Street journalist Ruth is sent to investigate a controversial weight loss guru for the women's page of her newspaper.
In doing so, she stumbles upon something far more sinister – a very unpleasant secret society.
Where Have I Seen Them Before?
Julia Foster appeared as one of Michael Caine's unfortunate girlfriends in Alfie (1966).
Dinah Sheridan starred in 1970 children's classic, the Railway Children, and middle class 1980s sitcom Don't Wait Up.
Richard Pearson spent much of the 50s and 60s in TV adaptations of Charles Dickens books and provided the voice for Mole in the wonderful 1980s stop-motion TV adaptation of the Wind in the Willows.
Norman Bird also appeared under the direction of Peter Sasdy in Hammer's 1971 film Hands of the Ripper and played Mr. Braithwaite in late 70s/early 80s children's series Worzel Gummidge.
One of Britain's most recognisable TV actors, Warren Clarke starred in long-running detective series Dalziel and Pascoe, as Quasimodo in a 1976 TV movie of the Hunchback of Notre Dame and as burly droog Dim in Stanley Kubrick's A Clockwork Orange.
Glasgow's Gerard Kelly later appeared as a villain in soap operas Eastenders and Brookside.
Fellow Scottish actor James Cosmo made his TV debut in the 1960s and has recently appeared in US hits Sons of Anarchy and Game of Thrones (as Jeor Mormont).
He's also been in several major films, including Braveheart and Troy.
Best line
"Well, do something about it you stupid cow. Start jogging, start a crèche, a political party, anything to take your mind off your guts."
Review of Hammer House of Horror, The Thirteenth Reunion
Slow paced and crushingly dull until the last few quite interesting minutes, it seems like a chilling, and deeply unpleasant idea for a 20 minute short has been stretched beyond bordeom's breaking point.
James Cosmo is briefly fantastic as the cruel, verbally abusive weight loss guru Willis but sadly, irritating heroine Ruth (Foster) and her sidekick Andrew (Kelly) take most of the screen time.
With shonky effects, a cheesy score, awful pacing and a thin, badly structured story, this feels significantly longer than it actually is.
Not recommended.