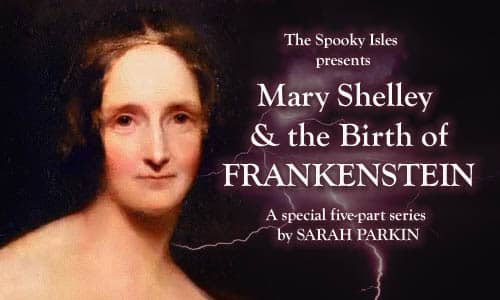 Today, we begin a five-part weekly series "Mary Shelley and The Birth of Frankenstein" with SARAH PARKIN, examining how England's greatest gothic horror novel came to be. First off, we learn how the author's parents had a strong influence on the making of the masterpiece.
---
What comes to mind when you hear the name of Mary Shelley? There's at least one obvious answer. The woman who gave the world Frankenstein and wife of poet Percy Bysshe Shelley is one of few women whose marriage to another writer has not overshadowed her own literary achievement. That's hardly surprising – the 1818 classic is a major contribution to the Gothic genre and arguably the first science fiction novel in English literature. It's also gripping, original and genuinely frightening. Still, it wasn't shaped in a vacuum, and neither was its creator. Mary Wollstonecraft Godwin, as she was born, was surrounded by literary and political influences that can be traced throughout her remarkable career, and nowhere more clearly than Frankenstein.
By far the most significant influences were her parents. Mary's mother, Mary Wollstonecraft, died of puerperal fever 11 days after giving birth, but remained an important presence throughout her daughter's childhood. The author of an array of treatises including A Vindication of the Rights of Woman, and the novels Mary and the unfinished Maria; or, The Wrongs of Woman was renowned for her radical views and has since earned a place in the history of feminist thinkers. However, her unconventional lifestyle – including her illegitimate daughter from an earlier relationship – was placed in the spotlight when her husband, Mary's father William Godwin, published a memoir of her which spoke candidly of her sexual history. The scandal which became attached to Wollstonecraft's name persisted throughout Mary's lifetime, but she was also keenly aware of her mother's literary achievements: she was as much of a presence as her portrait staring down from the wall in Godwin's study.
Godwin himself had achieved some success as a writer. The controversial treatise An Enquiry Concerning Political Justice (1793) was followed by six major novels, the first of which was Things as They Are, or The Adventures of Caleb Williams (1794), but throughout Mary's infancy and early childhood his fortunes declined. He had been known as one of the foremost thinkers of his circle of liberal reformists, and insisted on high intellectual standards for his children. As a result, Mary was multilingual, well read and steeped in mythological and religious traditions. Though his financial circumstances got worse and worse over the years and his fame faded somewhat, his circle remained large and as a result Mary came into contact with major figures including Samuel Taylor Coleridge, Charles and Mary Lamb and, of course, Shelley. Mary grew up surrounded by philosophical and literary heavyweights whose views she took on board, not least the father she adored.
Looking at the work of Mary's parents, common threads start to appear that are clear in her own work. Godwin's Caleb Williams is a dramatic Gothic novel, discussing the abuse of power by tyrannical governments by focussing on a servant persecuted by his master when he discovers his dark secret. The Wrongs of Woman sees Wollstonecraft using Gothic tropes to represent the suppression of women in the tale of a wife locked in an asylum by her husband. It's no surprise that both belonged to the radical intellectual movement which admired the French Revolution – freedom from the oppression of political institutions dominates their thought because that power is so often and so easily abused. One of the central themes of Frankenstein is the responsibility that comes with the acquisition of power; proof, as though it were needed, that Mary Wollstonecraft Godwin was fully deserving of both her parents' names.
---
Here are links to the complete five-part weekly series "Mary Shelley and The Birth of Frankenstein" with SARAH PARKIN, examining how England's greatest gothic horror novel came to be.
---
PART ONE: Examines Mary Goodwin's childhood and how her relationship with her parents, William Goodwin and Mary Wollenscraft, influenced the novel, Frankenstein.
PART TWO: Looks at the teenaged Mary Godwin's budding relationship with Percy Shelley and the surrounding scandal that led to the birth of Frankenstein.
PART THREE: Focuses on events surrounding the famous visit to Lake Geneva, where Mary Shelley conceived the gothic classic Frankenstein.
PART FOUR: Looks at the mixed reaction the gothic novel Frankenstein received when it was released in 1818.
PART FIVE: Describes the legacy the novel Frankenstein has had on the world.
---
SARAH PARKIN in West Yorkshire and Durham, where she is currently studying for a Masters degree in English Literature at Durham University. You can follow her on Twitter here.

---
You may also like to read: