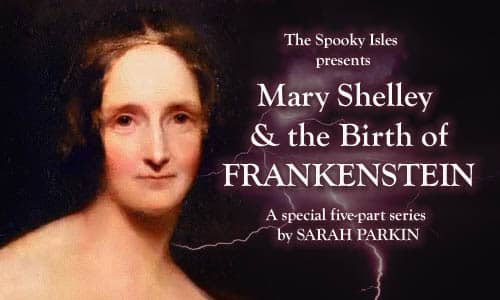 Today in Part 2 of our series, writer SARAH PARKIN looks at the teenaged Mary Godwin's budding relationship with Percy Shelley and the surrounding scandal that led to the birth of Frankenstein
---
11 November 1812 proved a milestone in Mary Godwin's life.
A brief return to her father and step-mother's house from a stay with family friends in Dundee saw her introduction to the Shelleys.
The lives of the couple had already been tempestuous.
Percy, the son of a Whig MP who later inherited the title of Sir Timothy, had been educated at Eton and Oxford, until his authorship of the atheist tract The Necessity of Atheism resulted in his expulsion from University College in 1811.
Relations with his father, already strained as a result, finally disintegrated later that year when Percy eloped with and married Harriet Westbrook, a 16-year-old schoolfriend of his sister who, as the daughter of a wealthy coffee-house owner, was his considerable social inferior.
Sir Timothy cut off his son's allowance, and financial problems plagued the couple as Percy continued to write and publish poetry as well as his politically revolutionary tracts.
They moved around a lot, and even spent time in Ireland where Percy aided efforts repeal the Act of Union and ensure Catholic emancipation.
After their return, the Shelleys finally met one of Percy's idols with whom he had been corresponding for much of that year: William Godwin.
Godwin's daughter was 15 at the time, and it was to be two years before Mary's acquaintance with the Shelleys was renewed.
By that time, the couple's first daughter, Eliza Ianthe, was nearly a year old, but a rift had grown between Percy and Harriet that was never to be healed, and a passionate relationship began to form between Shelley and the daughter of his mentor.
In early summer 1814 the pair met frequently, often at the grave of Mary's mother Mary Wollstonecraft, and in late July, accompanied by her half-sister Claire Clairmont, Mary and her 22-year-old lover eloped.
This was to be the start of a hectic if brief life together, taking in extensive travel, literary creativity and, of course, financial instability.
By the time they returned to England in September they were all but penniless and Mary was already pregnant – but Harriet was always a constant presence.
She gave birth to Percy's second child Charles in November 1814, and his letters to his wife demonstrate barely suppressed guilt for abandoning their family: when his grandfather died in 1815 and his immediate financial difficulties eased, he made arrangements to pay Harriet £200 a year for their maintenance.
The relationship was viewed with universal disapproval, even from Godwin, despite his earlier philosophical arguments against the institution of marriage that probably influenced Percy.
Mary's sister Claire was also a source of tension, her close friendship with Percy causing considerable jealousy on Mary's part even after Claire had an affair with Lord Byron. The couple's first daughter died before her first birthday in early 1816, 12 days after the birth of their son, William.
Though Mary does not seem to have begrudged Percy's support of Harriet – after her eventual suicide Mary supported his efforts to gain custody of the children – their relationship was under constant strain, yet clearly kept intact by strong mutual affection.
By mid-1816, when 'the Shelleys' travelled to Lake Geneva to spend the summer with Byron, Mary found herself grieving for the death of one child while trying to raise another, in a relationship with another woman's husband and facing public recrimination for her unconventional lifestyle – at the age of nineteen.
Given her mother's scandalous reputation, having cohabited and had a child with a man out of wedlock before meeting Godwin, Mary would have been even more keenly aware of the position in which she had put herself, and it is in this unique climate of loss, guilt and uncertainty that Frankenstein was born.
---
Here are links to the complete five-part weekly series "Mary Shelley and The Birth of Frankenstein" with SARAH PARKIN, examining how England's greatest gothic horror novel came to be.
---
PART ONE: Examines Mary Goodwin's childhood and how her relationship with her parents, William Goodwin and Mary Wollenscraft, influenced the novel, Frankenstein.
PART TWO: Looks at the teenaged Mary Godwin's budding relationship with Percy Shelley and the surrounding scandal that led to the birth of Frankenstein.
PART THREE: Focuses on events surrounding the famous visit to Lake Geneva, where Mary Shelley conceived the gothic classic Frankenstein.
PART FOUR: Looks at the mixed reaction the gothic novel Frankenstein received when it was released in 1818.
PART FIVE: Describes the legacy the novel Frankenstein has had on the world.
---
SARAH PARKIN in West Yorkshire and Durham, where she is currently studying for a Masters degree in English Literature at Durham University. You can follow her on Twitter here.

---
You may also like to read: