Mary Shelley & The Birth of Frankenstein, Part 3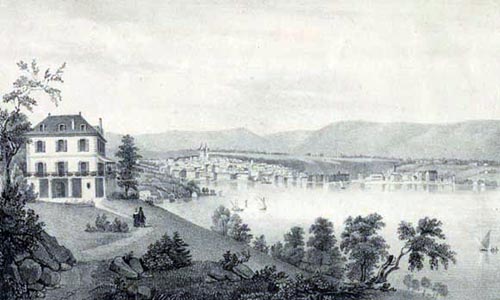 ---
In Part 3 of our Spooky Isles weekly series, SARAH PARKIN focuses on events surrounding the famous visit to Lake Geneva, where Mary Shelley conceived the gothic classic Frankenstein 
---

Of the coterie that spent the summer of 1816 at Lake Geneva, Claire Clairmont must be by far the least renowned. Among the few who know her name, she is Mary Shelley's step-sister, a friend of Percy Shelley and one of many lovers of George Gordon, Lord Byron. It was thanks to her, however, that the group came together at all. Her brief affair with Byron that spring had clearly exacerbated her infatuation – introducing her step-sister to the poet enabled her to arrange for Mary, Percy and herself to stay in a house near the grand villa the poet had leased.
For Mary, who was increasingly known as Mary Shelley although the couple were not yet married, this was one of many complications in her life. Travelling for the sake of Percy's poor health with an infant child would have been stressful enough without the controversy that followed them at home and abroad. Although we don't know exactly when that summer Claire learned she was pregnant with Byron's child, nor indeed when Byron tired of her and the affair ended, it's almost too tempting to suggest that this was another trauma of procreation on the list that inspired Mary's unique representation of a monstrous birth.
The group found themselves together on the dark, stormy night of June 16th, the atmosphere perfect for a ghost story, when a plot was hatched: instead of telling other people's stories, they would write their own. Percy struggled to find inspiration and quickly gave up. Even Byron, who was incredibly prolific all summer, began a vampire novel and abandoned it. The successful writers were, ironically, the ones who were not yet known. Byron's physician Dr. Polidori took up the poet's ideas and developed them into The Vampyre, the short story that catalysed the subgenre eighty years before Bram Stoker put pen to paper for Dracula. Mary, meanwhile, struggled with her assignment, but refused to give up so lightly.
Related Posts via Taxonomies