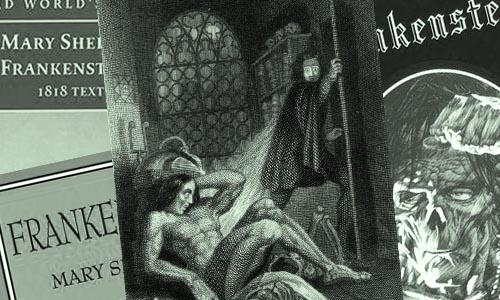 In Part 4 of Mary Shelley and the Birth of Frankenstein, SARAH PARKIN looks at the mixed reaction the gothic novel received when it was released in 1818.
---
When Mary Shelley published her debut novel in 1818, nobody knew it was hers. The first edition was published anonymously, leaving reviewers free to speculate; though no attempts seem to have been made to name an author, some reviews came close.
"It is formed on the Godwinian manner, and has all the faults, but many likewise of the beauties of that model." (The Edinburgh Magazine)
"It is piously dedicated to William Godwin, and written in the spirit of his school." (The Quarterly Review)
Comparisons of Mary's novel with those of her father William Godwin are clearly warranted, although another school of thought suggested that it could be Percy Shelley's work. The use of Godwin's tropes and themes was less important, however, than the revolutionary politics he shared with his daughter, and the potential threat they posed was keenly felt by more conservative voices.
This was an even greater concern given that the book became commercially successful very quickly: it was translated into French as early as 1821 and popularised through a range of melodramatic dramatic adaptations from the likes of Richard Brinsley Peake. Anxiety about the dangerous influence of the novel on the young and vulnerable, especially in light of its apparent moral ambivalence, is tangible in nearly every surviving review from this period.
Nonetheless, the reviews do generally tend to acknowledge the author's considerable "original genius and happy power of expression" (Sir Walter Scott), suggesting grudging respect for an aesthetic talent coupled with disquietingly radical attitudes. In fact, the initial reception of Frankenstein was mixed, ranging from outrage and disgust to fascination and qualified praise.
Once the author's name was released, however, the tone of her critics quickly shifted. Her colourful private life may have been enough of a deterrent to certain groups in society, but above all, readers were driven by the view of politics as a man's subject. Though Mary was tellingly often credited with a "masculine mind", commentators treated Frankenstein (as they would her later novels) as a 'romance' if, indeed, they heeded it at all:
"The writer of it is, we understand, a female; this is an aggravation of that which is the prevailing fault of the novel; but if our authoress can forget the gentleness of her sex, it is no reason why we should; and we shall therefore dismiss the novel without further comment." (The British Critic)
A great number of critics followed suit. Despite the success of the small print run of the 1823 edition, the bestseller was ignored by many intellectuals for years. Even the 1831 edition, which had undergone several revisions and finally gained a mass audience, did little to cure this, and the lack of new editions in the following five decades meant that Frankenstein was studied relatively little and valued less. Like so many groundbreaking artists, Mary saw her work met by critics unequipped to judge it.
Around the same time, Mary's life was becoming even more difficult. Relations with her husband had always fluctuated wildly, but she was left devastated when she suffered another miscarriage in 1822 and, weeks later, Percy drowned off the coast of Italy just before his thirtieth birthday.
After a year with friends in Genoa, she returned to England and devoted her life to her surviving son, Percy Florence, and a career as a professional author. Much of her life was spent in terse discussions with Percy's father, Sir Timothy, over the allowance he granted her for his grandson's upkeep; continuing to write novels and short stories; and in editing and promoting her husband's poems, assuring the literary appreciation he had largely been denied in life. She never remarried. By the time she died of a suspected brain tumour in 1851 she was a respected author, but predominantly for her later work.
Frankenstein was, however, as alive as its central Creature. Stage adaptations continued, and the characters remained in the public consciousness though the novel was out of circulation. Perhaps this is why its resurgence was so strong: only in the 1880s, when it had come out of its original copyright conditions and the benefits of mass literacy were beginning to appear, that Frankenstein found a truly huge readership. The first reprint sold more than all the previous editions combined, and from that point it grew into the global phenomenon that has had such impact on the modern world.
Here are links to the complete five-part weekly series "Mary Shelley and The Birth of Frankenstein" with SARAH PARKIN, examining how England's greatest gothic horror novel came to be.
---
PART ONE: Examines Mary Goodwin's childhood and how her relationship with her parents, William Goodwin and Mary Wollenscraft, influenced the novel, Frankenstein.
PART TWO: Looks at the teenaged Mary Godwin's budding relationship with Percy Shelley and the surrounding scandal that led to the birth of Frankenstein.
PART THREE: Focuses on events surrounding the famous visit to Lake Geneva, where Mary Shelley conceived the gothic classic Frankenstein.
PART FOUR: Looks at the mixed reaction the gothic novel Frankenstein received when it was released in 1818.
PART FIVE: Describes the legacy the novel Frankenstein has had on the world.
---
SARAH PARKIN in West Yorkshire and Durham, where she is currently studying for a Masters degree in English Literature at Durham University. You can follow her on Twitter here.

---
You may also like to read: