Saint Alban's eye-popping execution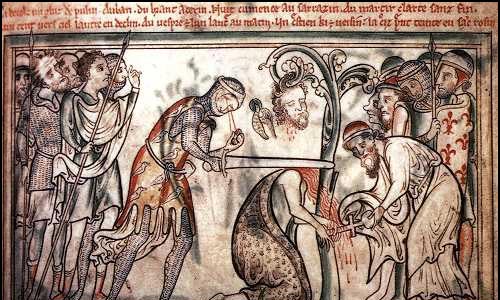 ---
JACOBS MILNESTEIN looks at the execution of Britian's first Christian martyr, Saint Alban, which was literally an eye-popping event!
---
"I worship and adore the true and living God who created all things," are the words that still ring out in prayer throughout St Albans Cathedral in Hertfordshire. The same words were spoken by the former soldier, St Alban before he was cruelly decapitated by the Roman authorities, the rolling of his head followed shortly by a curse that left his executioner not only blind but completely eyeless!
Such was St Alban's conviction of belief that his original executioner refused to carry out his orders and promptly followed the saint to his doom.
The second executioner, determined not to sway from his bloody duties, succeeded in decapitating both his own predecessor and the saint, only to have his eyes roll out of his skull and spattering in two fleshy smears upon the ground.
Yet what it was that St Alban died such a bloody death for, what was it that caused so much anger in the Roman governors – enough anger for them to make Alban the first saint to be martyred on British soil?
Related Posts via Taxonomies