The Haunted Cells beneath the Viaduct Tavern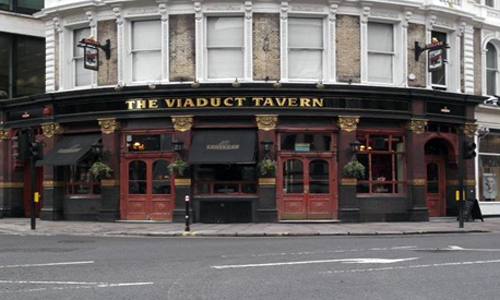 ---
SPOOKY PUBS LONDON will visit the haunted Viaduct Tavern in London on Friday the 13th. ALISON TOPP describes a previous visit to the Holborn-based pub.
---
Back earlier on in the year, my other half and I had the pleasure of visiting The Viaduct Tavern, opposite the Old Bailey in London.
We had looked online and time and time again the Viaduct had popped up as one of the most haunted pubs in London. The cellars downstairs, which were originally part of the old Newgate Jail, were said to be a spine tingling place to visit and the pub apparently is host to a few spirits upstairs as well as many behind the bar.
The pub itself has an 'old school' appeal. It hasn't changed to one of the plastic pubs that we are so used to seeing around now. Small booths are littered around the outside walls of the main bar and small tables and chairs on the inside wall. It has a homely and comfortable feel to it, we liked it straight away. The main inside wall to the right as you walk in is filled with a beautiful piece of artwork, covered by glass to keep it safe. Even this has a story behind it.
We visited on a Friday morning around 11.30am. The pub was quite quiet which is a rare occurrence apparently. The staff were welcoming and my partner made the decision to ask the barmaid if we could go down into the cellar. Some reviews of the pub say the staff are rude and un-cooperative, this is complete nonsense, they couldn't do enough for us and eagerly took us down (although she did go a bit quiet on the way down the stairs).  The stairs down to the beer cellar are steep and old, the smell of the cellar along with the old musty smell hits you first, but it actually adds to the experience. At the bottom you go across the beer cellar, negotiating the barrels, to a door (which is kept locked) at the far side.
Related Posts via Taxonomies