REVIEW: The Monster Hunters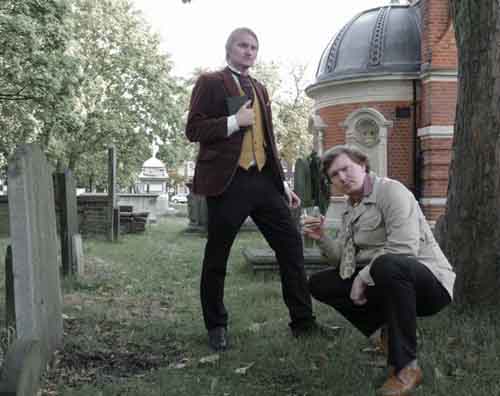 ---
The last time The Spooky Isles caught up with Peter Davis and Matthew Woodcock was a couple of month ago when we first interviewed the Monster Hunting duo. On Sunday night, we ventured to groovy Camden Town in North London to watch them perform The Monster Hunters at the Etcetera Theatre for the Camden Fringe Festival. REVIEW BY DAVID SAUNDERSON
---
Comedy and horror are sometimes an awkward mix. But fortunately for the packed audience at The Etcetera Theatre in Camden Town on Sunday night, The Monster Hunters nailed the two like a really big stake into the heart of a screaming vampire.
The Monster Hunters is a tongue-in-cheek tribute to British Gothic horror of the 1970s. The show's characters were very much swinging Londoners with lots of ladies being seduced, gallons of scotch being drunk and more polyester being worn than is legally advisable.
Sunday night's Camden Fringe Festival performance saw the celebrated Monster Hunters – Roy Steel (Matthew Woodcock), professional alcoholic and ex-big game hunter, and Lorrimer Chesterfield (Peter Davis), professor of Occult Studies at London's London University – investigating the mysterious Discothèque of Nights for suspected vampire activity.
During the hour-long show, we saw our intrepid duo face swamp monsters, a mummified hand and the greatest vampire in all of London, Count Orlock, and his deadly Twins of Evil!
Related Posts via Taxonomies