The Mysterious Coffin of Thatcham
---
---
NICOLA CARPENTER describes the gruesome discovery of a mummified baby during renovations of a Berkshire church
---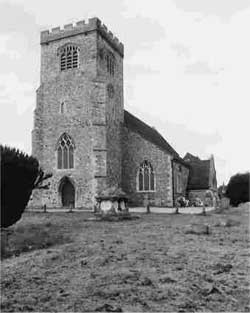 Thatcham is a small Berkshire town on the banks of the Kennet and Avon Canal and the river Kennet.  Thatcham boasts the beautiful stone St Mary's Church, first built by the Normans in 1140 AD.  Over the years the existing stone church was extended and added to.
On a February evening of 1929 a public meeting was held in the parish hall to discuss the deteriorating state of the church belfry and the bells it contained.  It was decided that the belfry would be reconstructed, the original six bells repaired, a new bell added and the oak bell frames replaced with iron ones.  The congregation set to work rising the funds needed and in the November of 1929 the work began.
The restoration work went well, but soon the belfry was to reveal a gruesome secret.  On 25th November Cecil Maskell, a carpenter and his working companion Joseph Adnams were removing the ceiling of the ringing chamber and the floor to the belfry above it.  Whilst clearing out the rubble with shovels the pair were to make a discovery that would stay with them until the grave.  Cecil shovelled up what he believed to be an old bell rope guide that had fallen from the belfry above.  Upon closer scrutiny it was found to be a tiny, perfectly formed elm coffin.  How it got there was a mystery.  Work men had inspected the belfry the week before and had not found the coffin.  It had to have been secreted somewhere above the belfry, in the clock tower, where the vibrations of the work carried out below must have dislodged it.
Related Posts via Taxonomies