Reading Time:
5
minutes
NICOLA CARPENTER has come across some strange gravestones in her travels around cemeteries. Here are some with some peculiar deaths on Berkshire gravestones.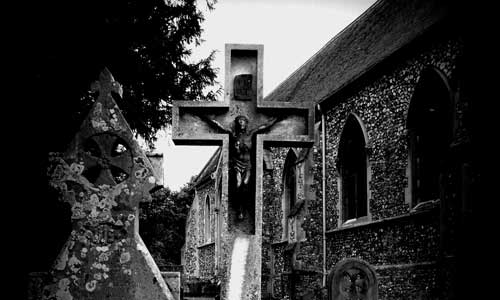 Rest in peace… In loving memory… Fell asleep. We all expect to see these words in cemeteries and churchyards across the country, but what about the 'unexpected'? Here are some of the more unusual things I have found inscribed upon the stones of the dead.
Alfred Beague Gundry 1836 – 1862
Drowned by the upsetting of a boat
St Michaels Churchyard, Bray Berkshire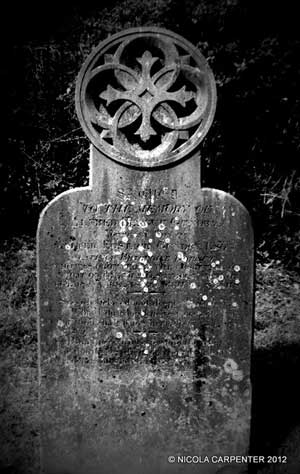 "Sacred to the memory of Alfred Beague Gundry. Youngest son of Walter Eustace Gundry ESQre late of Bridport Dorset who was drowned by the upsetting of a boat on the river Thames at Bray Weir on 18th April 1862 aged 26 years. ~ Sincerely beloved and deeply lamented. What I do thou knowest not now, but thou shalt know here after ~
Back in the 1860s, boating and punting on the River Thames was a pastime of the upper classes, a pastime that was to end in tragedy for young Alfred as his boat capsized near Bray Weir.
Vivian Charlotte Lewis 1923 – 1963
Died in her racing car
All Saints Churchyard, Bisham Berkshire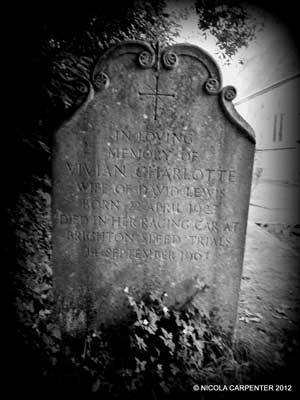 "In loving memory of Vivian Charlotte wife of David Lewis. Born 22 April 1923. Died in her racing car at Brighton Speed Trials 14th September 1963."
Poor Vivian was to become famous, but as the first death to happen at Brighton Speed Trials. She lost control of her 1953 Tojeiro Jaguar when it hit a kerb during the trials, crashing into a children's playground just off the promenade. She was to burn to death as flames reported to be in excess of 20ft shot into the air when her car exploded on impact. The actual car involved in the accident was sold, restored and recently auctioned.
Rupert Ernest Neve 1893 – 1918
Killed in an aeroplane accident
All Saints Cemetery, Maidenhead Berkshire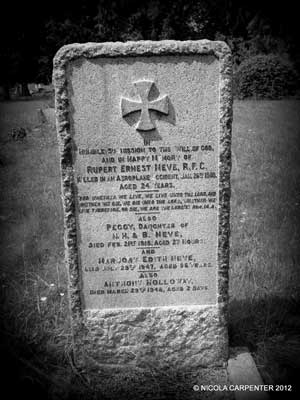 "In humble submission to the will of God and in happy memory of Rupert Ernest Neve R.F.C killed in an aeroplane accident Jan 26th 1918 aged 24 years. For whether we live, we live unto the Lord and whether we die, we die unto the Lord. Whether we live therefore, or die, we are the Lord's."
Rupert was one of the first groups of young men to volunteer at the outbreak of World War I. He first enlisted in the Public Schools Battalion of The Royal Fusiliers, before moving to the 9th King's Shropshire light Infantry and finally the Royal Flying Corps, R.F.C. During a flight over France in March 1917, Rupert came under fire and was severely injured, but was able to bring his plane back behind British lines. Rupert had only just been reported as fit for duty when on 26th January 1918 his Sopwith Camel B.5235 broke up in midair over Croyden, due to 'excessive vibration'.
Muriel Thompson 1885 – 1915
Drowned by the Sinking of The Lusitania
All Saints Cemetery, Maidenhead Berkshire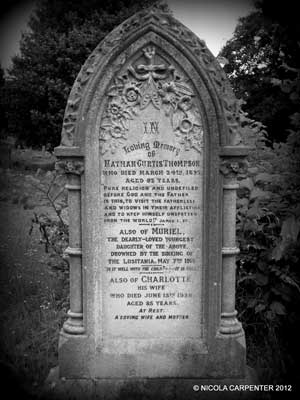 "Also of Muriel, dearly-loved youngest daughter of the above (Nathan Curtis Thompson). Drowned by the sinking of The Lusitania. May 7th 1915. Is all well with the child? – It is well."
Muriel Thompson was the youngest daughter of Nathan Curtis Thompson and Charlotte Disney. 30 year old Muriel had been visiting friends in Miami, Florida during the winter of 1914. It was on the 1st May 1915 at New York, Pier 54 that she alighted the Lusitania for the journey home to England. On 22nd April 1915 the Germany Embassy had issued a warning to all those who intended to travel on the Lustiania.
"NOTICE! Travellers intending to embark on the Atlantic voyage are reminded that a state of war exists between Germany and her allies and Great Britain and her allies; that the zone of war includes the waters adjacent to the British Isles; that, in accordance with formal notice given by the Imperial German Government, vessels flying the flag of Great Britain, or any of her allies, are liable to destruction in those waters and that travellers sailing in the war zone on the ships of Great Britain or her allies do so at their own risk.
Imperial German Embassy"
On May 7th 1915, The Lusitania passed in front of a German U-boat 11 miles off the coast of Ireland. She was torpedoed and sank in 18 minutes. Of the 1,959 passengers and crew aboard only 761 survived. Sadly Muriel was not among them.
Edith Marion Rosse (Milady) 1873 – 1932
Murder?
All Saints Churchyard, Bisham Berkshire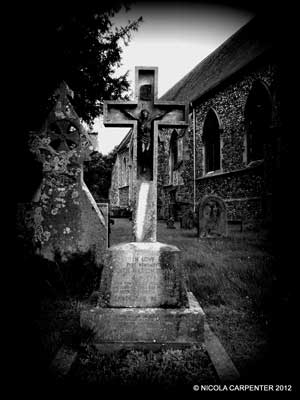 "In love ever remember Edith Marion Rosse, [Milady] Who peacefully fell asleep in London on the 14th Day of September 1932."
Edith Marion Rosse was living with fellow stage actor Arthur Maundy Gregory at the time of her death. Arthur was experiencing financial difficulties and was under pressure to repay the executors of Sir Watson £30,000 for a barony Arthur never received. Arthur had approached Edith for a loan, but she refused as her money was meant for her old age. A couple of months later Edith slipped into a coma and died. Strangely she had left all her money to Arthur in a will scrawled on the back of a menu card from the Carlton Hotel. Arthur took care of the burial arrangements, specifying a riverside plot at All Saints Churchyard in Bisham Berkshire. Arthur ordered the coffin lid to be left unsealed and the grave to be dug unusually shallow, only 18 inches from the surface.
Edith's niece, who had expected to inherit from her late art made a complaint and the police exhumed Edith's body on 28th April 1933. The coffin was found to be waterlogged. The forensic scientist employed by the police was in no doubt that the burial arrangements were intentional since, 'the effect of water on the decaying remains would make it impossible to detect the presence of certain poisons.'
Arthur was arrested in Germany but was never brought to justice as he died in a German camp on 28th September 1941.