Reading Time:
3
minutes
Abergavenny is a chiefly peaceful Welsh market town, so visitors may be shocked that here lies the site of one of the most heinous massacres in British history, even preceding the Scottish Black Dinner of 1440. CLAIRE BARRAND looks back on one of the bloodiest revenge acts in history which took place in her hometown, and as Christmas approaches so does the anniversary of the Abergavenny Massacre.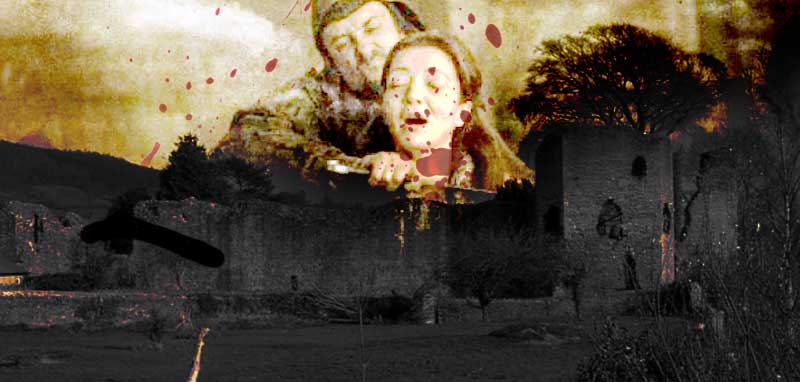 Established in 1087, by the Norman Lord Hamelin de Ballon, stands the remains of Abergavenny Castle.
The Welsh borders were a treacherous place to live and by in 1100's they were endless battle scenes between the English and the Welsh and the Castle changed hands more than once. When the Lord of Abergavenny, Henry FitzMiles was killed along with his only son and heir, his nephew, the 4th Lord of Bramber William de Braose inherited the Castle.
Real-life 'Red Wedding'-style Abergavenny Massacre in Wales
What followed has astonishing parallels to the Game of Thrones "Red Wedding" scene, as in 1175, William reached out to his uncle's suspected murderer, Lord of Gwent Seisyll ap Dyfnwal, with a peace offering in the form of an invitation to a grand Christmas Day feast.
The offer extended to Seisyll, his son Geoffrey and a great many Welsh Princes and leaders, declaring that he intended to build bridges and reconcile the differences between the English and the Welsh sides.
Seisyll was glad to make peace, and he arrived at the castle with all his family, followers and allies, and they customarily stacked their weapons outside and happily proceeded to eat drink and be merry.
However, at the height of the meal de Braose made a signal to his men who were lying in wait and the unsuspecting guests were all brutally massacred in a violent act of bloody slaughter. His act of revenge was heightened by the fact he had not forgiven Seisyll for his uncle's death and blamed him.
Dozens of men, women, and children were ruthlessly murdered that night.
Furthermore, he then went on horseback with his men to locate the seven-year-old surviving son of Seisyll named Cadwalladr and brutally butchered him in the arms of his mother too.
The act did nothing to appease the hostility between Wales and England, and he earned his nickname "The Ogre of Abergavenny."
The label seemed appropriate given his taste for particularly brutal acts of torture towards his prisoners even considering the times they were in; his actions were shocking to most.
Favoured by King John of England de Brouse was exonerated for the atrocious act by Gerald of Wales who cited his generosity to local priories, and he went on to become the Sheriff of Herefordshire until 1199, then Justice Itinerant for Staffordshire.
His luck ran out though, as in 1175 the Welsh Lord of Caerleon took retribution by seizing the castle and burning it to the ground.
De Braose's wife and son were captured and thought to have starved to death in the dungeons of Corfe Castle, while he escaped and fled Wales to Ireland where he was pursued after he eventually fell out of favour with King John. Finally in 1210, disguised as a beggar he fled to France where he died in exile and never fulfilled his desire to be buried in Brecon.
Castle has long history of horrors
The castle was destroyed further in 1233 and eventually rebuilt in the following decades and its original wooden structure replaced with stone. Centuries later in 1813-14 the Castle held 200 French prisoners of war within its walls.
And in 1874 shoemaker John Nicholas was brutally murdered, and his bloodied corpse was found on the Castle walk. His killers were found guilty of killing John by viciously bludgeoning his head with a blunt object and suffocating him.
Tragedy further struck at the Castle in 1882 during an Easter Monday Fete, when a wooden platform collapsed during a fireworks display, crushing poor unfortunate local girl Kate Grieves to death.
The likelihood will be that there is a mass grave nearby on the grounds of the castle, which today is a favoured picnic spot.
The tranquillity can fool you, but I have no doubt that the grounds still hold profoundly shrouded scars. Such heinous and brutal scenes and a past full of betrayal, lies, tragedy, and murder will have undoubtedly left a trace. Maybe the ghosts of the slain murdered men and women perhaps even the wicked Ogre of Abergavenny himself still haunt the Castle grounds as he did not get the Welsh burial he wanted?
Haunting echoes of the past are inevitable, and yet this is a place which, to date, has remained primarily uncharted territory by paranormal experts.
Find out more at http://www.abergavennymuseum.co.uk/