---
MJ STEEL COLLINS says new annual reveals the mysterious 12th century world behind the Green Children of Woolpit
---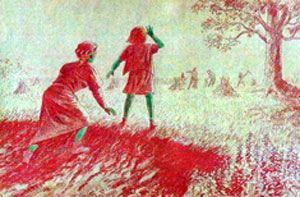 Duncan Lunan has been researching the strange 12th century tale of the green children of Woolpit village ever since he was a student in the 1960s.
The story, which has featured previously on Spooky Isles (The Green Children of Woolpit), centres around a young boy and girl who emerged from the deep 'wolf pit' trenches, from which the village gets its name, at some point in the late 12th century.
A Green Hued Mystery
Villagers were puzzled by the strange green hue of the children's skin and clothing, as well as the strange language they spoke.
Unfortunately, the boy died not long after the children's appearance, but the girl survived into adulthood, eventually marrying, losing her green colouring as time went on.
It was never quite clear just where the green came from, and the mystery has fascinated many since, and probably none more than Troon based author Duncan, who in 2012 published the in depth book, Children from the Sky, the culmination of several years work.  Duncan, and his wife Linda, now plan to release a number of handcrafted goods in accompaniment to the book.
The 2014 Children from the Sky Annual springs from this, and is hoped to be the first of many annuals in the years to come.
The annual is hand bound, and stylised in the form of a medieval manuscript.
As well as focussing on the story of the mysterious appearance of the green children, it also provides an insight into life during the 12th and 13th centuries, the era in which the survivor of the pair lived.
The annual is planned for release in July, to coincide with the month in which it is believed the children appeared.
Medieval Ghosts
The annual features an original folk song about the children, in the traditional ballad style, by singer-songwriter Carys.
Artwork is by Emma Pratt, an Edinburgh-based artist, specialising in fine art.
Articles, written by the Lunans, cover such nuggets as how to care for your hair if you are a medieval woman, medieval astronomy, recipes, and how to behave at a banquet – basically handy stuff if you were a medieval anthropologist wishing to understand the world in which the green children found themselves.
As Duncan himself shows in his main book of the tale, ghost stories play a strong part in the whole affair, as well as in the medieval world; this is explored in the annual with a large article by me (M J Steel Collins) on the role of the ghost story in the middle ages, with some examples of stories of the era, such as the Black Monk which haunted Duncan of the Isles near Paisley circa the 12th century.
---