CHRIS NEWTON looks at 1970s classic Children of the Stones – the scariest TV programme every made for children!
"… And this if for children?" were the famous words of Director Peter Graham Scott having read the script of the first episode of 'Children of the Stones', the 1977 HTV serial frequently regarded as "the scariest program ever made for children".
From the studio behind 'The Owl Service' and 'Sky', came a children's fantasy serial that was part Wicker Man, part Village of the Damned, but mostly its own indefinably original story of an idyllic-yet-creepy village in the middle of a 5000-year-old stone circle, whose inhabitants' 'happiness' comes at a sinister price…
'Children of the Stones'' creators, Jeremy Burnham and Trevor Ray were both prolific screen actors before turning their hands to writing.
Burnham had appeared in shows such as 'The Saint' and 'Randal and Hopkirk (Deceased)', but it was during his stint in 'The Avengers' that he suggested storylines to the production team, resulting in him penning five episodes between 1968-9, going on to work on the screenplay to Hammer's 'The Horror of Frankenstein'.
Ray's credits included 'Z Cars', 'Emmerdale Farm' (for which Burnham also wrote) and 'Doctor Who' before he turned his hand to script editing. It was in this capacity that he worked with Burnham on the crime drama 'Paul Temple'.
Together, they came up with the idea for 'Children of the Stones', which they pitched to HTV producer Patrick Dromgoole. Whilst enthusiastic about the project, he described it as 'very difficult to follow'.
Nevertheless, he considered its quasi-mystical pseudo-scientific ambiguity to be its selling point, as he considered stories featuring unexplained forces were more appealing to children, in that their imaginations would fill in the gaps. "Children adore to be scared," he later commented, "it does them good."
"I think people are into the paranormal." Burnham said of the series, "people sense that there are secrets out there. I think that we are only at the beginning of human knowledge."
Just as 'Sky' had used Stonehenge, 'Children of the Stones' was filmed on location in the real Wiltshire village of Avebury, innkeeping with the HTV (Now known as ITV Wales and West) mission statement to produce regionally relevant programming.
The serial was broadcast in seven weekly instalments between January and February 1977, and at 16:45 on Monday the 10th January, the children of Great Britain first heard Sidney Sager's terrifyingly unnerving score was performed by The Ambrosian Singers, a London choral group, whose discordant, atonal wailing somehow seemed to sum up the ancient, primal yet oddly articulate sophistication of Children of the Stones.
Many of those viewers would never be the same again, as they were about to head into the circle…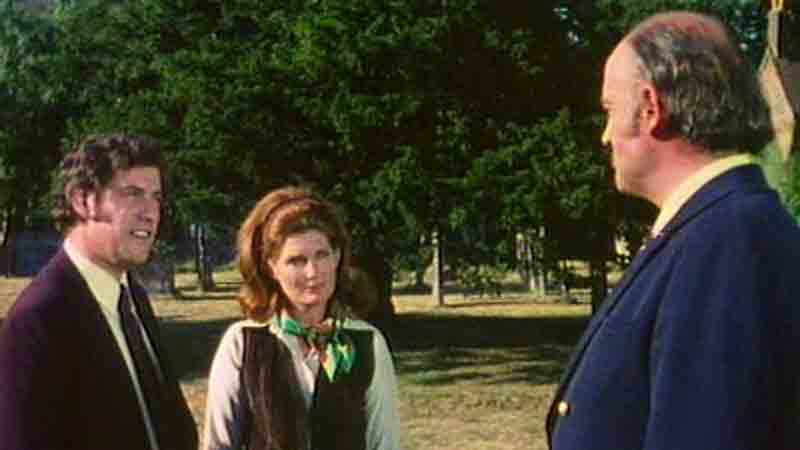 Children of the Stones Episode Guide
Children of the Stones Episode One: Into The Circle
First Broadcast: Monday 10th January 1977
Astrophysicist Adam Break (Gareth Thomas) arrives in the village of Milbury with his teenage son, Matthew (Peter Demin) to conduct a study of the megalithic stones which encircle the village.
Matthew finds that most of the other children at the local school are intimidatingly intelligent, all adept at an advanced form of algebra.
Sandra (Katharine Levy), who has also recently moved to the village with her mother Margaret (Veronica Strong), the curator of the local museum, warns him to stay away from 'the Happy Ones'.
Quote of the episode: "I deny the existence of that which exists."
Creepiest moment: When driving into the village, Matthew looks up to see them almost collide with a person-shaped stone which, upon second glance is actually Mrs. Crabtree (Ruth Dunning), their superstitious landlady.
Cliffhanger: Margaret asks Adam to touch one of the stones to see "…if you're the kind of man I think you are." After touching it, he has a series of horrific visions and collapses.
Episode Two: Circle Of Fear
First Broadcast: 17th January 1977
Matthew encounters a strange hermit, Dai (played with relish by character actor Freddie Jones) who instructs him to go to 'the sanctuary', a rock cave on the edge of the circle, if he ever needs a friend.
After his incident, Adam dismisses what Margaret calls the stones' 'psychic forces' as electromagnetic energy.
After investigating the stone circle further, he concludes it to be "A primitive Jodrell Bank immovably aligned with… Something up there."
Quote of the episode: "Leave the stones? You never will." – Dai
Creepiest Moment: The episode's ending in which, after a series of strange visions, Matthew makes his way onto the foggy village green in the middle of the night to find the possessed-looking locals stood in a circle, holding hands, moaning and chanting in some kind of twisted rapture.
Episode Three: Serpent in the Circle
First broadcast 24th January 1977
Dr. Lyle (Richard Mathews) checks Matthew over, relieved to have something to do, complaining that the residents of Milbury are too healthy.
One of Adam's ordinary classmates, Jimmo (Gary Lock), displays a newfound ability in advanced mathematics and is moved to sit with the Happy Ones. Dai has a mysterious protective amulet bearing the image of a serpent, the same image which appears on one of the sarsen stones.
Adam learns that the stone circle is "aligned to a supernova which exploded centuries before Christ".
He goes for a drink with Hendrick (Ian Cuthbertson), the charming yet sinister village leader, a former astronomer, who reveals that it was he who discovered the black hole to which the circle is aligned and left Oxford for Milbury to be close to it.
Quote of the Episode:
Hendrick: Primitive cave dweller? I think you do him an injustice. According the legend he was a visionary. A spiritual leader. A man of destiny.
Adam: I beg his pardon.
Hendrick: I think you would be well advised to do so.
Creepiest Moment: The jarring jump-cut to the clack-clacking wooden puppet at the Morris dance.
Cliffhanger: Margaret tells Adam that Jimmo's and his father recently went for dinner at Hendrick's house. His father, formerly scornful and contemptuous of country traditions is gleefully dancing with the Happy Ones as they lift a smiling Jimmo into the air, proclaiming "Happy Day!"
Trivia: "It's mine. I found it. It came to me" – is Dai deliberately quoting Gollum here?!
Episode Four: Narrowing Circle
First Broadcast: 31st January 1977
The few villagers who aren't possessed, including Dr. Lyle and his son Kevin (Darren Hatch), gather together to decide what to do. Dr. Lyle mentions that he has been invited to dinner with Hendrick but declines in order to visit a former patient.
Matthew touches the gloves he left behind and experiences a strange premonition of the doctor attempting to drive out of the village, but as he drives down the avenue something blocks his way.
Margaret explains his abilities as psychometry – the ability to 'read' inanimate objects.
In the museum, Margaret discovers that Dai's amulet is identical to an artefact which was discovered with 'the barber surgeon', a skeleton was found crushed beneath the stone which bears the serpent's mark.
The children find him barricaded in the sanctuary and ask for his amulet.
Dai is mistrustful of Kevin, who is revealed to have become a Happy One.
Dai reaches for the amulet only to find it shattered, just like the one in the museum. In his attempt to escape, he stumbles down the hillside and turns to stone, lying in the exact position that the barber surgeon was crushed.
Elsewhere, Dr. Lyle returns to wish Adam and Margaret a "Happy Day."
Quote of the episode:
Dr. Lyle: What is the disease we're so afraid of catching?
Adam: Happydayitis.
Creepiest moment: The look on Kevin's face at the end of Part One. Happy never looked so evil.
Cliffhanger: Margaret and Adam accompany the children to see the new stone which has appeared in the circle, only to see Dai's lifeless body, the cracked amulet by his side just as the barber surgeon had been found.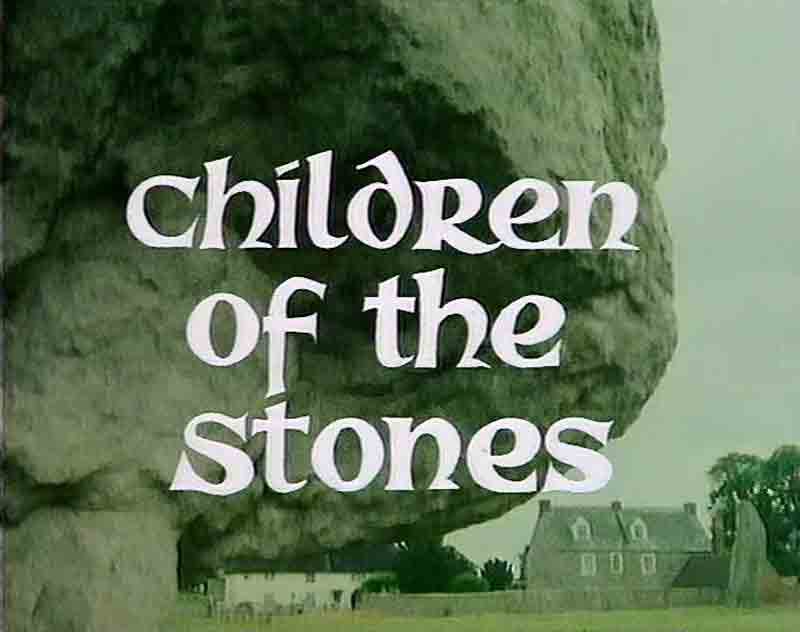 Episode Five: Charmed Circle
First Broadcast: 7th February 1977
Adam takes Hendrick to see Dai's body, to find it replaced by a pile of rocks.
Hendrick invites Margaret and Sandra for dinner at his house.
Matthew touches Dai's amulet and has a psychometric vision, crying out stream of words: "Visitor, beginning, end, visitor, bright, shining, circle, people, village, priest, stones, power, beam, always…"
Adam deduces that the 'visitor' means 'guest star', or Hendrick's supernova. Matthew steals Sandra's scarf in order to use his powers to find out what is happening at the dinner party.
At Hendrick's house, Margaret remarks that his state-of-the-art digital clock seems out of place with this antique furniture and grandfather clocks. Hendrick insists that he needs absolute accuracy for his work.
Meanwhile, the Happy Ones gather outside for more night time chanting or, as Hendrick puts it "a hymn of celebration".
Quote of the Children of the Stones episode:
Hendrick: Women. Delightful creatures, but punctuality is not among their virtue.
Link: Yes sir. There is much to be said for a celibate life.
Hendrick: And yet I have my children…
Creepiest moment: The revelation of Hendrick's dining room with its candelabras and weird stone thrones.
Cliffhanger: Hendrick turns away from the table as the roof opens directly beneath the back hole. A huge beam of energy shoots upward from the table towards it – the bright, shining power Matthew prophesised. Margaret and Sandra's looks of terror eventually give way to happiness.
Trivia: This episode sees the introduction of Hendrick's eerie butler, Link, played by John Woodnutt, who will be familiar to 'Doctor Who' fans for his various villainous roles on the show, including Hibbert in 'Spearhead from Space' and the Duke of Forgill in 'Terror of the Zygons'.
Episode Six: Squaring the Circle
First Broadcast: 14th February 1977
Adam loses his psychic link with Sandra, saying she "seems to have stopped feeling." Margaret and Sandra join hands with the Happy Ones, in a hideous atonal parody of ring-a-ring-o'-roses, before Margaret visits Adam, claiming that she didn't visit Hendrick in the end because Sandra was feeling unwell, yet a recording of Mathew's description of his vision of the dinner party causes her to black out.
Much to Mrs. Crabtree's horror, Adam announces that they are leaving. "Leaving? Whadya mean, leaving? I've never 'eard the like."
Matthew sneaks into the crypt of Milbury's deconsecrated church to find it filled with computers and is caught by Hendrick, who tries to persuade them to stay and join him in his work.
They refuse, but as they are driving out of the village Adam's car crashes into something unseen in the middle of the road. "It was grey like a stone, but human. But not human." When they wake to find themselves guests in Hendrick's house, Adam concludes that they lost their way out of the village, not geographically but in time, failing to align with their own present and becoming stuck in Millbury's time loop in which events – such as the death of the bearer of the serpent amulet are fated to repeat forever, a time-shift caused by the energies of the stones.
Quote of the episode: "What is your work, Mr. Hendrick? Father to the village? Squire? No, it's more than that. You see yourself as a high priest here, don't you? What I want to know is why. Why do you need to be surrounded by a mindless congregation? Why do they have to be brainwashed into accepting you?" – Matthew
Creepiest moment: Matthew finds a possessed Sandra coming out of the church with Hendrick and tries to say goodbye. "Not goodbye, Matt." She smiles. "We'll see you soon."
Cliffhanger: Adam and Matthew contemplate escape from Hendrick's house before their conversion, but find the house encircled by Happy Ones.
Episode Seven: Full Circle
First Broadcast: 21st February 1977
Adam and Matthew realise that Hendrick is plotting Milbury's alignment with the black hole with an atomic clock, which is why the timing of his dinner parties is so important, waiting until the exact second and then harnessing the power of the stones to siphon the villager's negative energies into the supernova.
They plan to disrupt the signal from the atomic clock in the church's crypt to the digital clocks in Hendrick's house.
Hendrick performs his dinner party ritual, unaware that it hasn't worked as Adam and Matthew exchange surreptitious winks whilst pretending to be "so happy".
When they join hands with the Happy Ones, Hendrick's influence is broken and, with a series of bewildered gasps, the villagers return to normal.
At which point, after Adam and Matthew's delay, the stars align and the column of light shoots from the table before Hendrick can turn away.
He is caught in its beam, which reveals his true form, an ancient druidic magus in white robes. Screaming, the villagers turn to stone just as Adam and Matthew make it to the sanctuary before the time-loop resets.
They wake to find a less dishevelled Dai, not a poacher in this reality but a barber surgeon, like his father and his father's father.
Meanwhile, the other villagers are back to normal, seemingly with no memory of what has happened.
Children of the Stones Quote of the episode: "Anger of fire. Fire of speech. Breath of knowledge. Render us free from harm. Return to us the innocence that once we knew. Complete the circle. Make us at one with nature and the elements. It is time!" – Hendrick
Creepiest moment: Margaret and Sandra turning to stone as Adam and Matthew try to pull them from the circle, the camera staring on their immobile feet before panning up to reveal the hideous truth.
Cliffhanger: Adam and Matthew leave Milbury successfully this time, but as they are driving away another car enters the village and a man who looks exactly like Hendrick pulls up outside Hendrick's manor house, now baring a For Sale sign, and introduces himself to Link as Sir Joshua Litton, a retired Cambridge professor. "I believe I'll be very happy here." He smiles as he walks into the house.
Six things you may not know about Children of the Stones:
According to Jeremy Burnham in a Radio 4 interview, An American Composer, Robert Gross is adapting the series for an Opera.
The writers novelised the serial for Carousel Books in 1977. A sequel novel, 'Return to the Stones', about an adult Mathew returning to Milbury with his teenage son, was released by Fantom Publishing in 2013. "There's still an enormous interest in Children of the Stones, and it's been heart-warming all through my career (and Trevor's) that it's still arousing interest all over the world." Burnham reflected on the series.
Veronica Strong, who played Margaret, is the wife of writer Jeremy Burnham.
The novel 'Harvest Home' by Thomas Tryon was cited as an influence for 'Children of the Stones'. It features an American couple moving from New York to an isolated country village where the locals like to stick to "the old ways".
According to Katherine Levy, who played Sandra, the majority of the serial was filmed in Avebury during the school holidays in 1976, so that as many of the local children as possible could appear as extras.
Whilst the stone circle at Avebury is real, the stones were augmented with polystyrene for the shoot.
Buy Children of the Stones from here: Children of the Stones The Complete Series (DVD)