Reading Time:
2
minutes
DR FIONA-JANE BROWN tells of the shocking and ghostly history of two historic Aberdeen drinking establishments, Musa and Wagleys!
Musa and Wagleys are two weel-kent pubs on the corner of Aberdeen's Exchange and Guild Streets.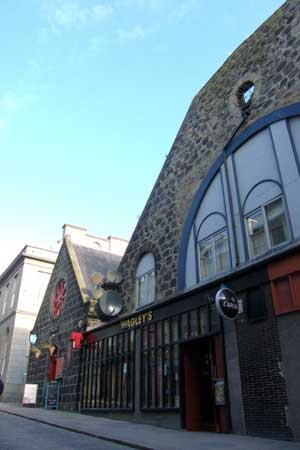 It is also difficult to mistake their former purpose as a church. Indeed, Trinity Chapel of Ease stood here from 1794, erected to cope with the burgeoning population of the parish.
Previous to that it had been the site of the old Trinity Hall and Hospital from 1633. Before then, it was a shipyard owned by an Alexander Leslie.
This leads us to a shocking event in Aberdeen's history; the land Leslie purchased from the council in 1606 was the former burial ground of the Trinitarian or Red Friars who lived in the Green.
They had been gifted the site in 1211 by King William the Lion, the same man who gave the city its royal burgh status.
For nigh on 350 years, the Trinitarians and their monastic neighbours, the Carmelites, worked away in peace.
The religious upheaval caused by the Reformation shattered that life forever. In 1559, the Protestant lairds from Angus sent what could only be described as a mob of "bully-boys" to the city to strip the Catholic institutions of their treasures.
Little or nothing was done to protect the monks of the Green. A tiny prayer and a painting discovered in a chapel in Palma, Majorca many centuries later records the brutal slaughter of Brother Francis, one of the Trinitarians.
He had happed the communion silver in his robes and was attempting to hide in the sacristy when the mob entered the Red Friars' church which faced the then tiny harbour at Trinity Quay. He may have remonstrated with them, but it only served to inflame the mobsters' rage.
The prayer tells us the rest:
"O Blessed Francis, Martyr, who in thine attempt to withstand the impious and sacrilegious raid of heretics on thy religious house, wert wounded and dragged down the stairs, and with thy head cleft didst give up thy soul to heaven as a victim."
He was left to die as the "reformers" set fire to the church around him.
Historian Matthew Power revealed Francis' awful killing and the discovery of the monk's painted likeness in Francis, Protomartyr of Scotland, published 1914.
In one of the many archaeological digs in the Green, a skull was retrieved with a huge hole in the forehead. Romantic-minded locals were keen to claim this as the skull of the unfortunate monk. Did this give rise to the sightings of ghostly cowled figures?
Perhaps Brother Francis' other remains lie hidden under the floor of Wagleys to this day!