Reading Time:
< 1
minute
Name: Dunvegan Castle, Isle of Skye, Scotland
Address: MacLeod Estate, Dunvegan House, Dunvegan, Isle of Skye, IV55 8FF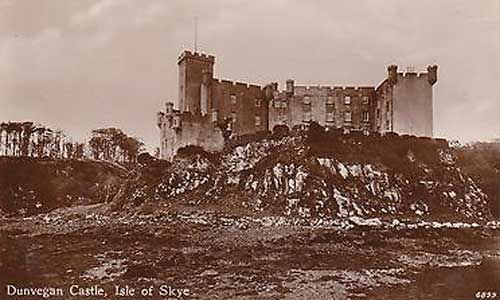 About Dunvegan Castle
Fairies on the Isle of Skye are basically what ghosts are to Edinburgh. There are a lot of them. Dunvegan Castle, still inhabited by the chief of Clan MacLeod, is particularly notable as home to the Fairy Flag, or Bratach Shi. It has been the possession of the MacLeods longer than can be remembered, and is nothing more than a tattered piece of yellow silk.
There are several origin myths behind it, all generally pointing to it as a gift from the fairies. One popular tale, told by Sir Walter Scott is that it was gifted by The Fairy Queen, and was victorious in two battles as a magic flag.
The Queen will reclaim it after the third, most bloodiest battle. It has also be described as an object of luck for Clan MacLeod. Another detail legend is that it was wrapped around a MacLeod baby, who was then sang to by the fairies, a song that was sang to successive MacLeod children by their nursemaids.
Other interesting artefacts to be seen at Dunvegan include the Dunvegan Cup and Rory Mor's Horn. The castle is open to the public (there is a fee) from 10 am to 6 pm each day, though there is no disable access to the astle itself.