Reading Time:
3
minutes
STEPHEN JACOBS takes a look back at the 2004 horror spoof TV series Garth Marenghi's Darkplace "so radical, so risky, so dangerous, so god-damn crazy", we could only review it now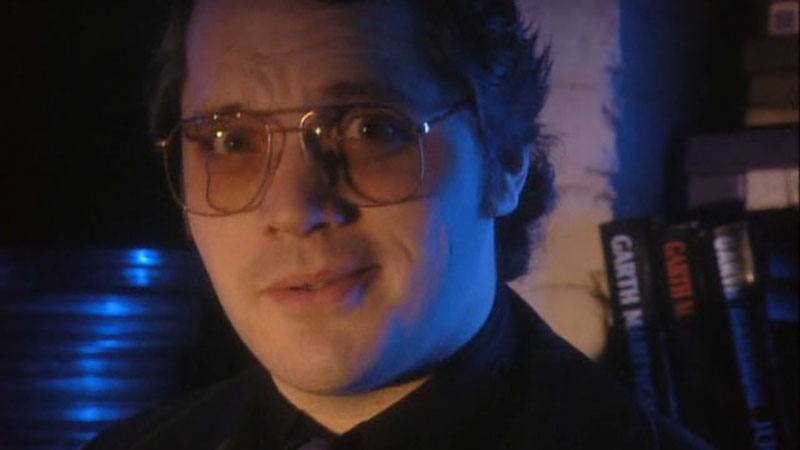 I first discovered Garth Marenghi's Darkplace by accident.
Trawling late night TV looking for something decent to watch I paused at this odd show, a show concerning the mysterious goings on at Romford's (fictional) Darkplace Hospital.
Within minutes I was hooked, but found I'd come to it rather later in the proceedings – there were only two episodes left to air.
It's been a delight, therefore, to revisit this show for Spooky Isles.
The actors: The main cast consists of Matt Holness as Marenghi, Richard Ayoade as his publisher and fellow co-star Dean Learner, Alice Roe as Madeleine Rivers and Matt Berry as Todd Rivers. The show also featured guest appearances from the likes of Julian Barratt and Noel Fielding (the Mighty Boosh), Stephen Merchant and Graham Linehan.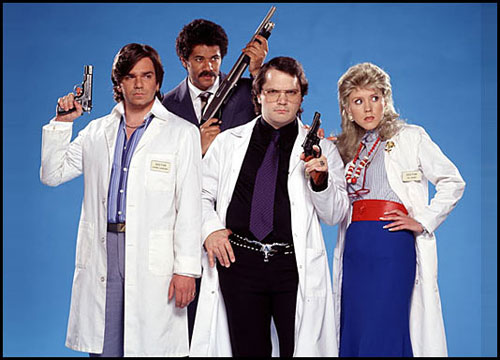 The premise: In the 1980s, the Clive Barkeresque Garth Marenghi "author, dream weaver (also actor)" created and starred in a TV programme, "so radical, so risky, so dangerous, so god-damn crazy" that Channel 4 had been too scared to show it… until now.

Each of the episodes is interspersed with interviews with Marenghi, his publisher and fellow co-star Dean Learner (Richard Ayoade) and co-star Todd Rivers (Matt Berry). A brief resume of the plots will give you some indication to how weird the show was (in a good way, of course).
Garth Marenghi's Darkplace Episodes
Episode 1, Once Upon a Beginning: Rick Dagless M.D. (Holness) must fight to close the gateway to Hell that has been opened in the hospital by an ex-colleague.
Episode 2, Hell Hath Fury: A tardy chicken lunch causes Dr. Asher to crack. She uses her telekinetic powers to get revenge on the cook… and the rest of the hospital.
Episode 3, Skipper the Eyechild: A male patient is impregnated by a giant eyeball. The resultant one-eyed baby becomes Dagless's surrogate son, taking the place of his deceased half-grasshopper son. But is the eye-child a potential killer?
Episode  4, The Apes of Wrath: The hospital's staff and patients are turning in to apes. Could it have something to do with the water?
Episode  5, Scotch Mist: The hospital is enveloped by a mysterious mist, containing three long dead Scottish warriors.
Episode  6, The Creeping Moss from the Shores of Shuggoth: Dr. Sanchez falls in love with a patient… but she has been infected by a cosmic spores and is turning into broccoli.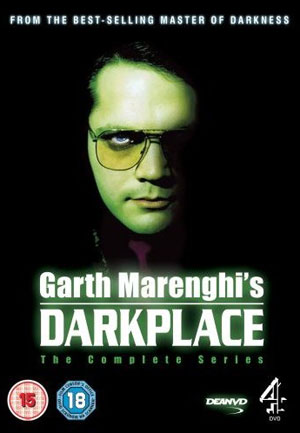 Sadly, only 6 episodes were ever made and reports in 2005 of a movie version have, so far, proven unfounded. Still, we can live in hope.
I would urge people to give the series a go… and with the whole series retailing at less than £7 on Amazon, I don't think you'll be disappointed.
Watch Garth Marenghi's Darkplace: Best Acting Ever?
What do you think of Garth Marenghi's Darkplace? Tell us in the comments section below!