The West Yorkshire city of Leeds has probably the strongest connection to the gothic subculture of any place in Britain, being the city where many of the key acts from the scene were formed. Bands such as The Sisters of Mercy, the Mission, the March Violets, Salvation and Ghost Dance were all formed in Leeds and the city became the epicentre of the burgeoning goth movement in the early 1980s.
Guest writer JOEL HEYES picks five sites of historical importance to the goth scene in Leeds
1.The Bearpit
Originally built as part of the Leeds Zoological and Botanical Gardens in the 1800s, this pseudo-gothic oddity did indeed originally have an unfortunate resident bear but the site on Cardigan Road in the Hyde Park ward of the city was also the location for one the Mission's first photoshoots in 1986. Although it subsequently became a magnet for other local goth band photoshoots it unfortunately is now fenced off, probably to prevent any fatal backcomb-and-bush-related accidents amongst eager goth musicians.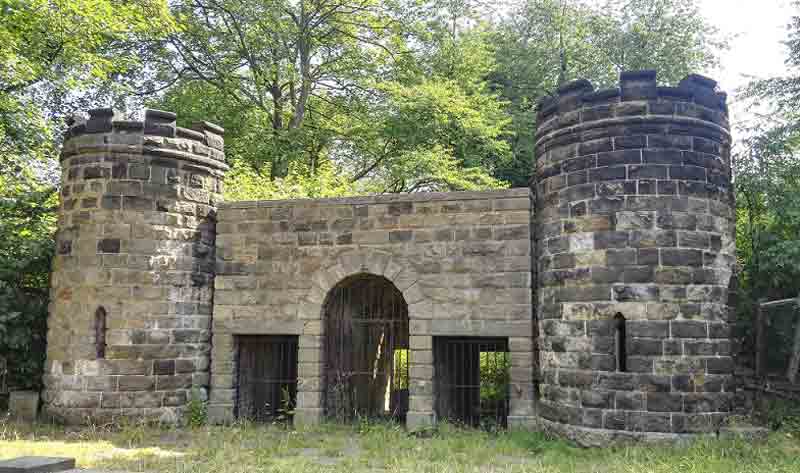 2. Village Place
Just round the corner in Burley is the small back-to-back house where Andrew Eldtrich, frontman and mainstay of the Sisters of Mercy, lived in the early 1980s while the band were building their cult following. Many of the members of the first wave of Leeds goth acts also lived in the Hyde Park and Burley area, and the postcodes of both the Sisters' and the Mission's headquarters remained just a few streets apart in Hyde Park even during their legal battles and chart success of the late '80s.
3. The Faversham
Although now a fairly unremarkable student bar just off the University of Leeds campus, the Faversham was the place where all the goth acts of the day drank and mixed shoulders in the early '80s heydey of the scene. John Langford of fellow Leeds act The Three Johns stated that "there was a joke about the Faversham Arms that you could draw a map around all the bands in their little corners in there." (Roach/Perry, 1993).
4. St George's Fields
This extremely picturesque cemetery and park in the University of Leeds campus was the location for another famous photo shoot, this time the 'classic' line-up of the Sisters of Mercy that recorded their debut album 'First and Last and Always'. Its series of imposing tombstones and statues have also proved invaluable for Leeds-based student goth moping ever since, although seeing Andrew Eldritch draped over a gravestone in the original shot does make it hard to accept his repeated assertions not to be a goth.
5. Bar Phono
Leeds nightclub Le Phonographique was the de facto headquarters of the entirety of the Leeds goth scene from the early '80s until its closure in 2005. A basement nightclub with a small dancefloor that had a central, mirrored pillar, the Phono's eccentric lay-out was the reason why the famous and celebrated gothic 'two-step' back-and-forth dance was invented. Once home to numerous regular nights as well as the 'Sunday club' goth night, the long-lamented Phono is now a retail storage unit.