Reading Time:
4
minutes
Greater London is full of haunted churches. But the City of London Churches have more than their fair share!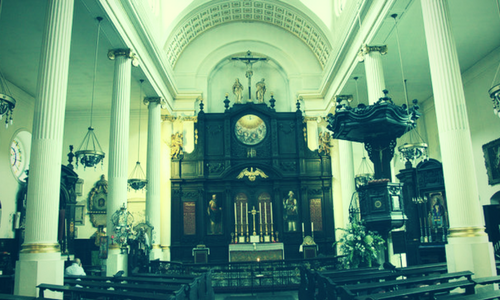 St Giles-without-Cripplegate Church, Fore Street
During the 1970s, there were several reports of a dark apparition seen in the lane of the churchyard, with the last sighting at 9.30pm on 23 June 2004. During the last sighting, the ghost stood at the gate of the church and disappeared when approached. He is thought to be the ghost of a former vicar heading into the church from his house.
Christ Church Greyfriars, Newgate Street
This ruined church and its graveyard now operate as a public garden. Traditionally, it is haunted by the wife of Edward II, Queen Isabella (1295 – 1358). Another ghost of later vintage is that of Lady Agnes Hungerford, who lived in the 1500s, and was executed at Tyburn for the murder of her first husband. The two ghosts, the tale cooked up by Victorian Night Watchmen, goes that the two ghosts were oblivious to one another, until one night they happened to notice one another, and embarked in a fight through being jealous of each other's beauty! The church yard is also haunted by a spectral greyhound running between gravestones.
All Hallows By Tower, Byward Street
A haunting involving a spooky cat that dates back to before the church was destroyed by bombing during the Second World War. It has since been rebuilt. One tale has Professor McGonnagall qualities. A group rehearsing Christmas carols saw a female apparition, that vanished and a black cat sat in its place, before it too disappeared.
St Magnus the Martyr Church, Lower Thames Street
A beheaded apparition has been spotted inside the church, whilst the spectre of a priest with black hair was reported standing over a bishop's tomb. Hauntings date to the 20th century.
St Botolph's-without-Bishopsgate, Bishopsgate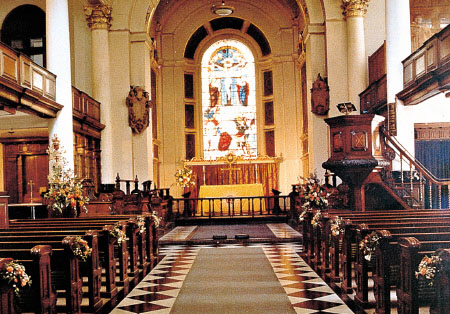 A strange picture was taken in 1982 by Chris Brackley, in which the faint image of woman appeared standing the church loft, which was empty at the time. Experts were unable to explain the cause of the image; a builder got in touch a few years later to say he recognised the face. It had been the face of a particularly well preserved body discovered in coffins builders disturbed during renovations…
St James Garlickhythe, Garlick Hill
An ancient church dating back to the 12th century, the current building of which was designed by Sir Christopher Wren. In 1855, an embalmed mummy was discovered in the vaults. It was christened Jimmy Garlick and was put on display in a glass case for years. Following the Second World War, a ghostly apparition has been seen around the church, and is thought to be Jimmy Garlick's phantom.
St Andrew-by-the-Wardrobe, St Andrew's Hill, Queen Victoria Street
The church of William Shakespeare, it possesses a bell of evil repute, known as Gabriel. Gabriel and its other two accompanying bells were cast in the 15th century and originally were located at a church in the parish of Avenbury. Here Gabriel had a reputation for as a death messenger, ringing of its own accord when the parish vicar died. About a year after the bells were brought to St Andrew-by-the-Wardrobe, locals were awoken one still night by the lone tolling of Gabriel. In a locked building, devoid of humans. It emerged that the incumbent vicar of Avenbury had passed away that night.
St Paul's Cathedral
Those seeking quiet solitude in the All Soul's chapel at St Paul's have been disturbing by the whistling of a ghostly vicar, who has been seen wearing clothing of a venerable vintage, making it possible he is a spook several centuries old. Also in the cathedral is a bell that might make a member of the royal family nervous if it doesn't ring properly, as it is wont to do just before the death of a royal.
In 1606, Jesuit Father Henry Garnet was executed in St Paul's Church Yard following a show trial, for dubious complicity in the Gunpowder Plot. He was sentenced to be hung, drawn and quartered, but James I ordered that Father Garnet be hung until dead and was then quartered, the crowd watching proceedings being a tad uncomfortable. Following the execution, a piece of straw covered in blood was taken home by a young Catholic boy as a souvenir. What appeared to be the image of Garnet's face formed when the blood dried. The authorities were keen to recover the straw, abhorred at someone hung as a rebel being venerated as a martyr. The straw was smuggled to France, where is vanished sometime around about the Revolution.
Have you seen a ghost in any of these City of London Haunted Churches? Tell us in the comments section below!