GREGOR STEWART continues his series looking at the Most Haunted Scottish Castles with Claypotts Castle in Dundee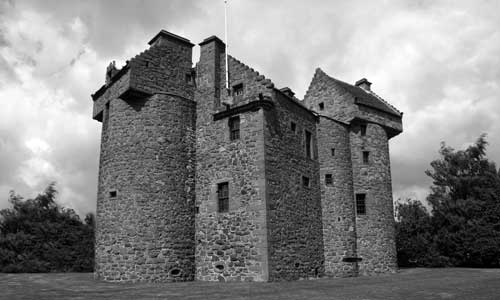 Claypotts Castle sits between Dundee and Broughty Ferry and is unusual, not only for its distinctive design of square rooms corbelled out over circular towers, but also because it remains almost completely unaltered since it was constructed in 1588.
It was built for the Strachan family, and later, ownership of the castle was passed through a number of notable families, until it was gifted to the State in 1926.
Ghost woman 'waves handkerchief' from top floor window
The ghost of a woman in white has been witnessed at the castle on many occasions, always standing and looking out of one of the top floor windows.
She is sometimes said to appear to be waving a handkerchief. She only appears on May 29th, which has led to the belief that she is Marion Ogilvie who was Cardinal Beaton's mistress.
Beaton was murdered on 29th May, and this seems to be the only connection.
However, Beaton was murdered in 1546, some 42 years before Claypotts Castle was completed, which has led to speculation that the woman was in fact in some way connected to John Graham.
Check out GREGOR STEWART'S other Most Haunted Scottish Castles
Tell us about your experiences at haunted Claypotts Castle in the comments section!
Watch Claypotts Castle video