Reading Time:
< 1
minute
GREGOR STEWART looks at spooky Drum Castle in Aberdeenshire.
Drum Castle, which incorporates the oldest intact keep in the country into the current structure, stands around 10 miles to the west of Aberdeen.
The castle and the estate became the seat of the chief of the Clan Irvine, after it was gifted to William De Irwin (Irvine) by King Robert the Bruce in 1323, for his years of service as the King's armour bearer and secretary.
The castle remained the home of the heads of the Irvine family until 1975 when it was passed to the National Trust.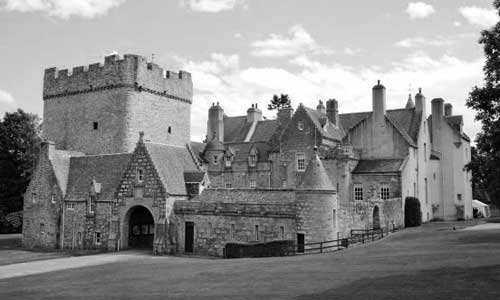 Haunted Drum Castle is home to a number of spirits and strange happenings.
Heavy footsteps are often heard in the corridors of the castle when there is no one there and the identity of who is responsible remains a mystery.
Items are sometimes moved around in the castle as well, particularly in one of the bedrooms, which always seems to be cold, and where items on the dresser are reported to move.
A female figure is also reported as being witnessed within the castle that many believe to be the ghost of Anna Forbes Leslie, the wife of the 20th laird, Alexander Irvine.
A portrait of Anna hangs in the castle and the figure is said to look just like her in the painting.
Check out GREGOR STEWART'S other Most Haunted Scottish Castles