Reading Time:
5
minutes
Spooky Isles profiles Irish Paranormal Investigations and some of the most haunted locations in Ireland they have visited…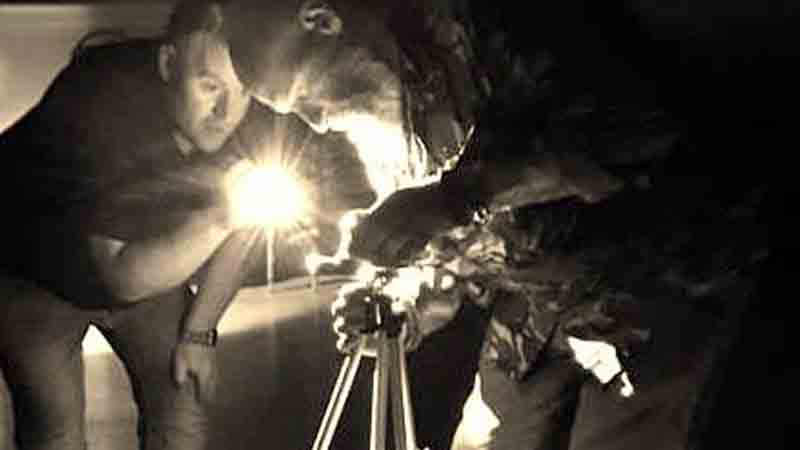 Irish Paranormal Investigations are leading the way in relation to the exploration of supernatural Ireland. It's been a busy year that has seen them count being the first Irish paranormal team with sole access to Spike Island and the first Irish team to take part in a pioneering docu-video for a national newspaper among their achievements.
The team consists of many seasoned investigators and specialists in photography, technology and electrics as well as dark history, reported hauntings and folklore of Ireland. Let's take a closer look at Irish Paranormal Investigations and the spookiest places in Ireland and abroad they have visited and have planned ahead!
Irish Paranormal Investigations – The Team
The group of six friends from Dublin, Wicklow and Limerick got together after realising they shared the same ethos with regards to investigation and development in the paranormal field. IPI were founded by professional photographer and survival expert Shayne Phelan and artist Natalie Fowler Phelan.
Shayne is a level-headed sceptic who's pursuit of the paranormal is primarily to debunk, but as he says himself "Who wants proof of the existence of the paranormal more than a sceptic?" His down to earth and methodical approach provides much peace of mind and reassurance to frightened individuals on the team's private cases.
With a wealth of experience in traditional investigation techniques including dowsing rods, pendulum and glass divination, location researcher and 'sensitive' Natalie leads the way for the team by securing outstanding locations both in Ireland and overseas.
Jules Murphy-Goff is the team psychic and is very intuitive picking up on the energies within a location and able to provide ample warning of negative energy and activity hotspots. Jules also provides the groundings at each location for the protection of the team.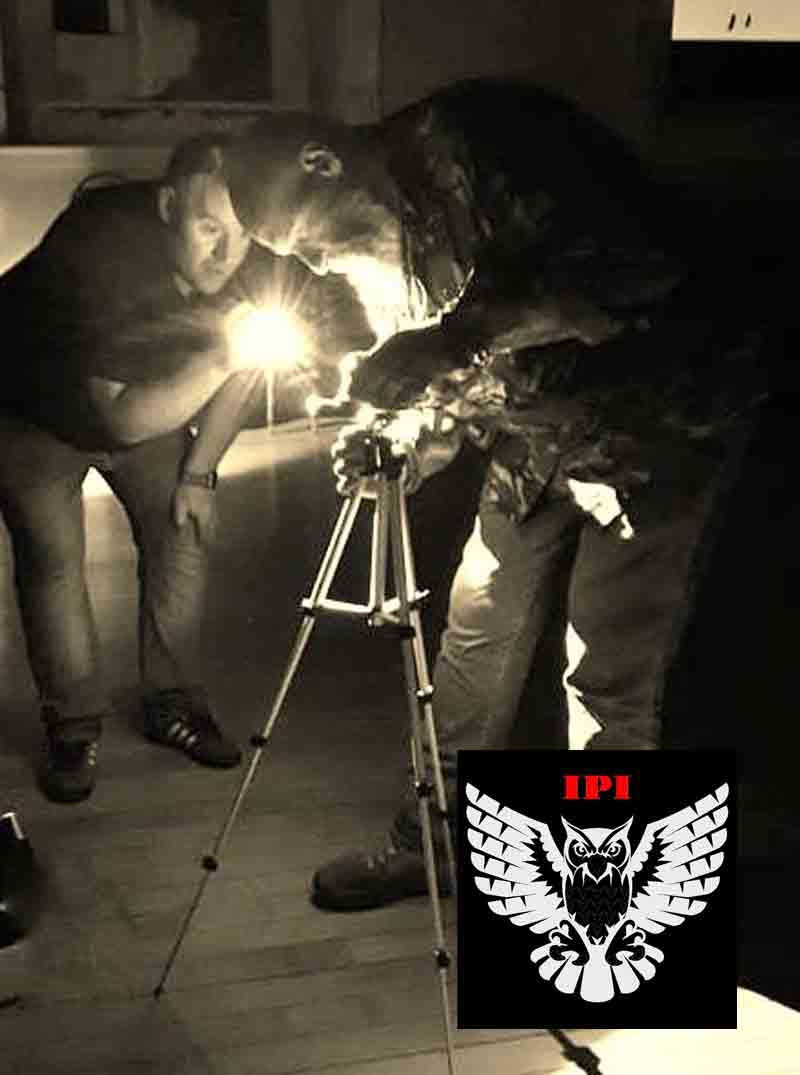 Spooky Isles Ireland Editor Ann Massey joined the team with a wealth of experience and knowledge of Irish history, hauntings and folklore, as well as paranormal research. The published author had previously worked with other teams and consulted on media productions pertaining to the supernatural.
Qualified electrician Dominic McElroy is the technical specialist and equipment expert for the team. His knowledge of the effects various aspects of the electro-magnetic spectrum can have in relation to claims of paranormal activity, especially with private cases, has proved invaluable. Dominic's knack for debunking obscure anomalies saves the team valuable time on investigations.
Liam Canty is a history buff not just on locations, but on everything from the Knights Templar to the Freemasons and Hellfire Club, which brings perspective and important background information to many of the sites investigated. His grounded but open approach to investigation brings a good balance to the team.
The youngest and least experienced member of the team is Stephen Byrne, however his passion and eagerness for paranormal research helps keep the rest of IPI energised. Not shy of exploration in even the hardest to reach hotspots, the survival enthusiast meets paranormal investigation challenges head on.
Ireland's Spookiest Haunted Locations
Spike Island, Cobh, County Cork
The haunted island and former military base and prison off the Cork coast was the setting for a pioneering investigation for the team.
With reports of dark evil entities, gaunt gunner spectres, white ladies and poltergeist activity, it was never going to be a quiet night for IPI!
As they stepped on to the island as the first Irish team to investigate solo, the incoming storm added an air of expectation and energy.
High readings in the gaol cells and corridors where there was no source of electricity, doors slamming on cue, mysterious lights and team members being mimicked and identified by unseen forces were just some of the highlights of this hundreds of years old location.
Read more about Spike Ireland, Cobh.
Charleville Castle, Tullamore, County Offaly
The first public location investigated by the team, this gothic showpiece has been a location for many paranormal TV shows and is said to be home to the famous child ghost Harriet, who died tragically on the staircase.
On ancient druidic grounds and forming part of the mystical triangle of County Offaly, it was an exciting debut for IPI.
Vibrating tables, audible growls and an apparent visit from Harriet herself were the tip of the iceberg for this investigation!
Read more about Charleville Castle.
Leap Castle, Roscrea, County Offaly
With more visits lined up to what is known as Ireland's most haunted location, IPI bravely chose to hold their lockdown here on Friday the 13th no less.
While the home part of the castle was most welcoming along with hosts Ann and Sean Ryan, other levels told a different story.
Blasts of dark energy knocking team members sideways in the Bloody Chapel, intelligent responses to questions using equipment and meters being set off left right and centre mean the team are very excited to return and explore further.
Hellfire Club, Montpelier Hill, Dublin
If ever a team was to have a regular 'haunt', the Hellfire Club is it for IPI.
This was the setting for the premier para-video-documentary for the Irish Daily Mirror which took viewing figures to new levels for the national newspaper.
The legendary location has claims of spirits, violent poltergeist activity and even a visit from the Devil himself.
The film crew were not disappointed as responses from an apparent spectral member of the Hellfire Club sent readings on equipment through the roof and shadows and bangs followed the team around the dark and mysterious location.
Read more about Hellfire Club, Dublin.
Private Paranormal Investigations
The main purpose of IPI is to bring peace of mind to people who are too terrified to live in their own homes.
With a well-practiced process from interviews and base readings to analysis, the team take a lot of time and painstaking effort to try and get to the bottom of reported paranormal activity in private locations.
Drawing on their combined expertise and experience, the team are largely able to prove there are perfectly normal explanations for the things that go bump in the night. Of course there have been private visits where the anomalies cannot be explained and raise more questions -these investigations remain ongoing and spur the team on to bring answers to the families involved.
No payments are ever taken by IPI for these investigations and all costs and time are their own. If you feel you need help you can contact them through their page.
Future Investigations for Irish Paranormal Investigations
This year some of IPI guested on an investigation in the renowned Ancient Ram Inn, Gloucestershire and in December the entire team head to South East England to another well- known haunted location to be revealed soon, as well as more Irish haunted gems.
2019 sees the team travelling to the UK and European locations and further afield including the States, as well as discovering new haunted places in Ireland and re-visiting old favourites.
Primarily Irish Paranormal Investigations will continue to push boundaries and find answers in the paranormal field and help scared families sleep more soundly in their beds.
With a focus on integrity, research and first and foremost helping those terrified in their own homes, Irish Paranormal Investigations continue to go from strength to strength.
If you have any haunted locations you would like IPI to investigate, or you wish to know more about the team and the places they visit, you can find them on Facebook.