Reading Time:
4
minutes
James Herbert was the true master of written horror and the supernatural, says JANET QUINLIVAN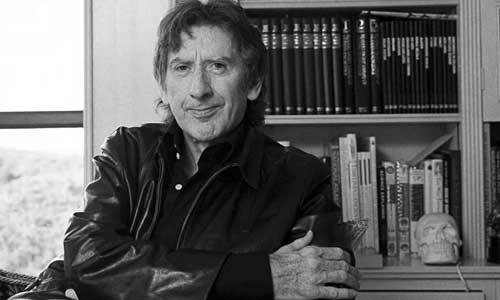 James Herbert was born in London in April 1943 and died on the 20th of March 2013 (a day I will never forget). He is my personal favourite horror writer of all time as most of his works are based on the paranormal, mutations and the damn uncompromisingly explicit. He is very unlike Stephen King whose works are based on the human psyche and things that humans are capable of.
Herbert's books delve into the depths of extreme paranormal activity, with genetic mutations, possessed and haunted houses, possessed people, astroplaning, crazy psychotic children into torture and murder and paranormal investigators. Most of it comes down to sheer human survival amongst extreme odds and very strange happenings.
James grew up in Petticoat Lane, Whitechapel, the famous haunt of Jack the Ripper. He had a great childhood and would entertain the rest of his school class mates with his fantastical stories.
He was very afraid of the dark as a small child, known to cower under the covers at the shadows that moved around his room. As he grew older he lost this fear and then only became afraid of spiders. Bit like myself, not with the little ones, but those big monsters give me the shivers!
James designed most of his book covers himself. He was gifted in all the arts and studied everything from graphic design to print and photography at the Hornsey college of art. He was even a member of a small band in his younger days. However, he later became art director in Charles Barker advertising company.
James Herbert sells millions of horror books
James Herbert wrote 23 books and sold 54 million copies in several languages. His first book, written in 1974 when he was just 28 'The Rats' (about giant mutated man eating rats) took him 10 months to write and was an instant best seller, with 100,000 copies sold in 2 weeks! The book was inspired by the rats that roamed the streets of his home eating his father's goods. His father was a market seller and suffered terribly with rats eating a lot of his stock.
He married his wife Eileen in 1967 and had three daughters. Since then he wanted to spend more time on his family and less time writing.
In 2010 several great things happened to this man, he was awarded with 'Master of Horror' at the world horror connection, the award was presented by his very good friend Stephen King.
He also received an OBE in the same year for his writing.
He released his final book 'Ash' in 2012 which is a sequel of 'Haunted' and 'the Ghosts of Sleath'. It seems he took quite a lot of time over this book as it is decidedly more indepth than any other book he has written.
When James died, it was at home in bed. A post mortem was carried out but no cause of death was ever given. Several of his friends have said he showed no signs of illness before his passing.
Several of his books have had television or film adaptations. The most recent being 'The Secret of Crickley Hall' (2012) starring Suranne Jones and Tom Ellis, 'Fluke' in 1995 with Nancy Travis and Samuel L Jackson, (with the movie itself was created to be lighter hearted than the book) and 'Haunted' (1995) starring Kate Beckinsale and Aiden Quinn. There was also the release of 'The Survivor' in 1981 and 'The Rats' was released as the film 'Deadly Eyes' back in 1982. Most of his movies received very mixed reviews with some not doing as well as others.
The reason that these films perhaps haven't done so well is because of poor media crossover. His early books mainly written in the late 70's, were very controversial and were probably quite difficult to put into film media due to lack of effects, subject matter and finance. As well as that some of these lesser known directors and screenwriters weren't able to put a lot of thought into dialogue to make it enthralling viewing. On the other hand, perhaps his books weren't quite as popular as they are now.
'Deadly Eyes' got awful reviews for 'stiff' acting and general lack of believability. The effects were terrible with dachshunds playing the role of the rats dressed in rat costumes. Most of the characters I was hoping would end up being rat food just to end their time on screen. It falls into the same category for me as 'Sharknado', 'Sharktopus' and 'Zombeavers'.
'Fluke' received similarly bad reviews, with the film not matching viewer expectation. This story has some similarities to the book but was directed to suit children which I know are not Herbert's target audience. It's still a dark tale but not just as dark as Herbert had written, a severe disappointment for any fan.
'The Haunted' received mixed reviews, many horror buffs found it to be a bit boring and long winded on the dialog side, with fairly weak visual effects. Some critics did commend the movie on it's fantastic scenery, good plot twists, creepy story line and with good actors that gave the characters depth and made them engaging.
'The Secret of Crickley Hall' seemed to be a lot more popular with good reviews of the effects and good character depth, probably down to the caliber of actors used in this TV adaptation.
For me James Herbert was an amazing person and writer, he wrote with detail and with a flair for the terrifying like no other. His works are gripping and they take you into the character's world where everything they see and feel will be seen and felt by you. His writing covers many paranormal phenomena, with pieces based around war, spiritualism, faerie lore, magic, evil and good. His books start with a bang and will keep you turning page after page leaving you disappointed that it's finished, as you will find in weeks to come with my series of James Herbert book reviews.
Read Top 10 James Herbert Books You Must Read.
Watch James Herbert on This Is Your Life Video