Reading Time:
4
minutes
The Man Without A Body 1957: RICHARD PHILLIPS-JONES heads back to 1957, as the disembodied head of Nostradamus is revived in this Frankenstein-inspired Brit-horror!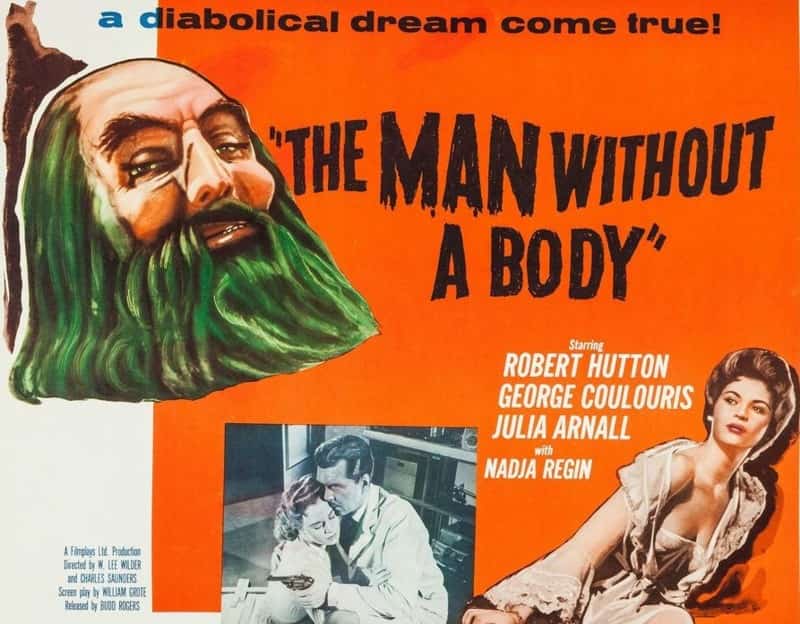 TITLE: The Man Without A Body
RELEASED: May 1957
STARRING: Robert Hutton (Dr. Phil R. Merritt), George Coulouris (Karl Brussard), Julia Arnall (Jean Cramer), Nadja Regin (Odette Vernet), Sheldon Lawrence (Dr. Lew Waldenhouse), Peter Copley (Leslie), Michael Golden (Michel de Notre Dame/Nostradamus), Norman Shelley (Dr. Alexander)
WRITER: William Grote
DIRECTORS: Charles Saunders & W. Lee Wilder
In May 1957, Hammer's The Curse Of Frankenstein was released to UK cinemas. Whilst its impact on the British horror film as a whole would be massive, it would take a while for other British filmmakers to latch onto its Gothic stylings. Hence, even a cursory glance at other UK horror films in production or pre-production that year shows the marked influence of Hammer's previous hits: The Quatermass Xperiment (1955) and X: The Unknown (1956). There would be plenty of alien presences on the loose on the film sets of Britain over the next year or two.
However, another film which arrived in cinemas the same month as The Curse Of Frankenstein is well worth looking at, since it also taps into the Frankenstein tradition in its own way whilst heavily referencing Hollywood horror of the period in the form of Donovan's Brain (1953). It provides a good example of the mindset of British producers at the time, aiming to penetrate the US market by using tropes which were easily identifiable by American viewers, and attempting to disguise the British origins of the production with a touch of stealth, and some imported talent.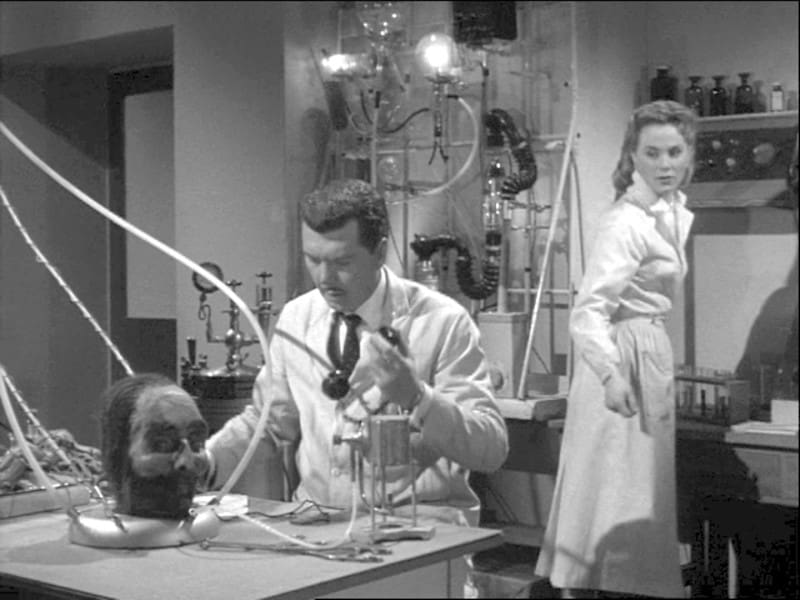 In The Man Without A Body, wealthy and ruthless American businessman Karl Brussard learns that he is dying from an inoperable brain tumour. With little hope from conventional medicine, Brussard is referred to London-based Dr. Phil Merritt, who has had some success with brain transplantation operations and has even succeeded in keeping a disembodied monkey's head alive for six years.
Brussard sees a way of saving his skin by having another brain placed in his body (there is a convoluted explanation as to how a new brain would keep Brussard's entire life's memories and thoughts), but the doctor naturally questions the ethics of procuring a suitable brain. After leaving the premises, Brussard just happens to venture into Madame Tussaud's (as you do), and ventures upon a display of Nostradamus' wax likeness. On hearing of this great mind, Brussard asks the tour guide where the man himself is buried.
Next thing we know, Brussard has tracked down a struck-off, drunken doctor in a local pub, and talked him into accompanying him to France, in order to liberate Nostradamus' head from his grave. This is smuggled back inside a plaster-cast of Brussard's unfaithful wife Odette, which seems prudent. After all, can you imagine explaining that at customs?
"Anything to declare, sir?"
"Just Nostradamus' head. Oh, and 200 Gitanes…."
Back at Dr. Merritt's lab, the head of Nostradamus (which is in remarkably good shape for someone who died in 1566) is linked up to the vital head-saving equipment, and before we know where we are the medical staff are having a right old chinwag with the seer about how many of his prophecies have come true, and how science has advanced in his absence.
Brussard, of course has earmarked this great brain for his own purposes. Nostradamus is having none of this, and plots to plant the seeds of Brussard's demise with poetic justice, before a climax which sees a ruined Brussard become increasingly unhinged, and ties up a sub-plot in which Odette is having an affair with the doctor's assistant, Dr. Lew Waldenhouse.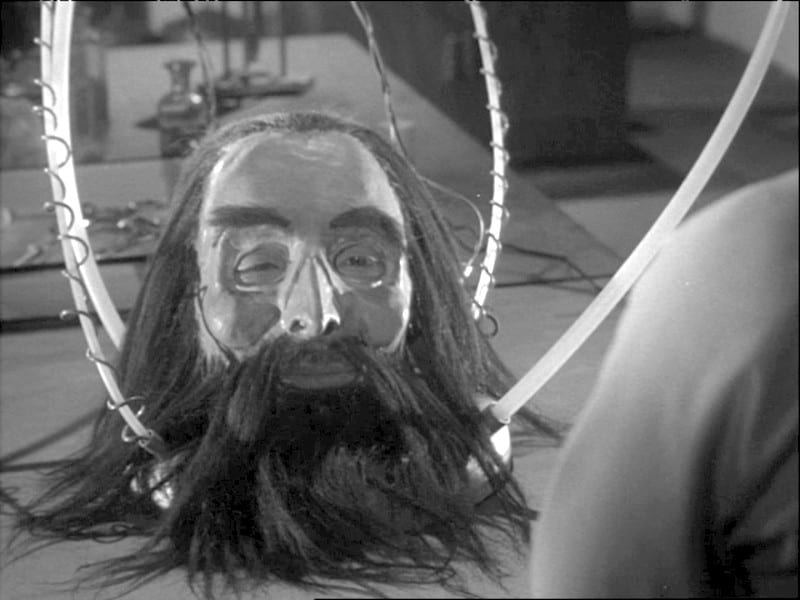 The direction, co-credited to W. Lee Wilder and Charles Saunders keeps things moving along at a rattling rate, so the viewer doesn't get much time to dwell on the plot holes, dodgy science and sheer lunacy of the premise.
The Man Without A Body was very much a British production trying to pass itself off as American as much as possible. There was nothing unusual about this at the time, it made perfect business sense in the current marketplace, but this practice would soon become the exception rather than the rule. It wouldn't be long before our horror movies were wearing their Britishness as a badge of honour, and such deception would no longer be an obligatory requirement for a US release.
TRIVIA POINTS: W. Lee Wilder was the elder, estranged brother of Billy Wilder, who referred to him as "a dull son of a bitch". Whilst it's safe to say that none of Wilder the elder's works would challenge his sibling's The Lost Weekend (1945) or Sunset Boulevard (1950) for legendary status, W. Lee nonetheless managed to sustain a 22-year directing career, even earning a Golden Lion nomination for the solid film-noir Once A Thief (1950).
In a later interview, actor Robert Hutton claimed that Charles Saunders was simply named on the credits to ensure a sufficient number of British crew were employed to meet quota guidelines, and that he took no active part in directing the film, despite being on set.
What did you think of The Man Without A Body 1957? Tell us in the comments below!
Watch The Man Without A Body 1957