Reading Time:
5
minutes
Miskin Manor is well-known for its hauntings. CLAIRE BARRAND spent the night at the haunted house in Wales to investigate its much reported paranormal activity!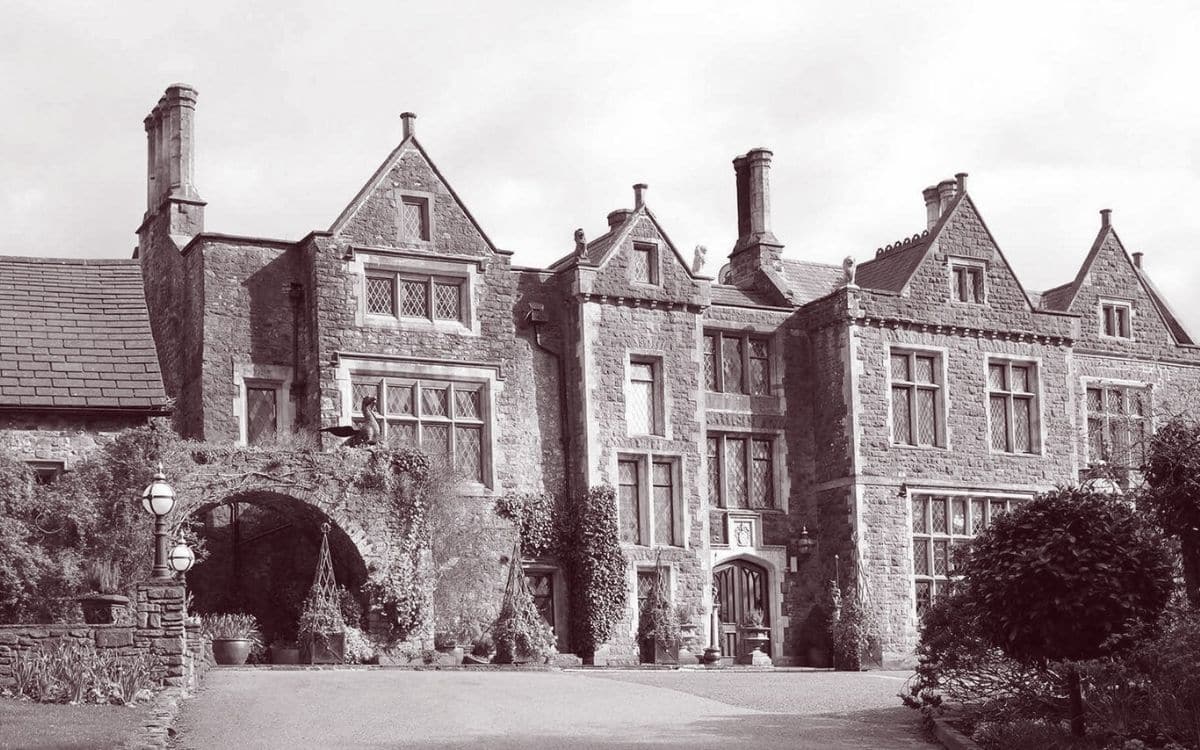 Talbot Green, Pontyclun, Wales CF72 8ND
What better excuse to investigate a haunted location that your husband's birthday? As a special treat for him (read excuse to book a creepy hotel) I booked an evening at Miskin Manor inset in the glorious Welsh countryside of South Wales on 18th March 2017.
History of Miskin Manor
Miskin Manor can be dated back to the 10th century when the Welsh Wales divided the land into Cwmwds (sections), and one of the Cwmwds was Miskin.
The roots of the name are thought to allude back to the words 'Maen Cun' or 'Lovely Plain.' Located in Rhondda Cynon Taf, the 'Lovely Plain' on which Miskin Manor presently stands is as striking today as it was 916 years ago.
In 1100, Nest a daughter of the Prince of Glamorgan lived in a manor on the site of what is now Miskin Manor. Welsh heritage records show that for the following six generations the estate was home to the Basset family.
In 1857 the property was sold to David Williams, a famous Welsh Bard with the Bardic title of Alaw Goch, and he continued to rebuild and extend the Manor. Williams was a philanthropist whom the National Eisteddfod owes a great deal! After this, his son, Judge Gwilym Williams, continued the work. Judge Williams wife, strangely enough, was, in fact, a descendant of Nest.
Famous guests at Miskin Manor
It seems that Miskin Manor has had its fair share of high-profile guests and visitors over the years. In 1990s Miskin Manor was inherited by Sir Rhys Williams, whose wife Juliet, was the daughter of the "scandalous novelist" Elinor Glyn, who also lived in Miskin Manor.
Elinor Glyn, (17 October 1864 – 23 September 1943), was a British novelist and scriptwriter whose romantic fiction was considered outrageous for its time.
She developed the concept of the "It" girl, and she had an incredible impact on early 20th-century popular culture and the careers of noteworthy Hollywood stars such as Rudolph Valentino, Gloria Swanson, and Clara Bow.
Though Elinor was not a permanent resident of Miskin Manor, her daughter Juliet married its owner, the Liberal MP Sir Rhys Rhys-Williams. This connection was most likely the reason that Charlie Chaplin and the Prince of Wales are reputed to have been guests at the manor along with a whole host of prominent figures of the 1920s and 30s.
Under the ownership of Sir Rhys Williams, Miskin Manor saw lots of society life and even had the honour of entertaining the Prince of Wales (later to become Edward VIII) as well as then Prime Minister Lloyd George.
Miskin Manor was sold, converted and extended in 1985, The current owners, the Rosenberg Family, purchased the building in 1996.
Visit to Miskin Manor
As we approached, driving up the long driveway towards the west of the house, set in 25 acres of incredible landscaped spectacular Victorian and Edwardian gardens and grounds, I felt quite delightful trepidation a soon as I saw the historic building ahead.
One cannot fail to be impressed by the monumental architecture, complete with lead windows and gargoyles! A wedding was in full swing when we arrived, and I was not surprised, given the building boats a magical Minstrel Hall and is an incredibly popular venue for weddings.
We were not disturbed by the revellers at all during our stay, and I thought to myself that, I think given the history of high society occasions here, that the ghosts were probably more than at home with the high spirits of the guests.
We reserved room two to stay in, a beautiful four poster room with a fireplace overlooking the gardens through two huge windows. I was thrilled to discover that this room is, in fact, one of the most haunted bedrooms in the building!
I woke during the night at one point and immediately sensed a presence in the room with us. It was suddenly cold, and I was almost afraid to open my eyes! I did of course and could see nothing out of place. Reached out for my camera and took a few shots before crashing back into dreamland. Out of dozens of pictures that I had taken earlier, one or two of these showed up "orb" like entities floating in front of the fireplace.
Thanks to the effect of champagne dinner I slept soundly but did dream that the room we were in was next door to the chamber of "Lady" (no name) and that her place was inaccessible to guests. Now, this room was room one, and it is available to guests so I would like to know how much of that was genuine and who this Lady was! The next day, despite my sleep I felt exhausted all day long.
I had a look at some of the photographs mounted on the wall in the corridor on the ground floor that show the extent of the damage done to the building after the first of two devastating fires in the 1900's took place in 1922, destroying all but the external walls.
In the photo, you will see that in one of the windows appears a menacing face. I will leave it to you to decipher what that is, but I can assure you that nobody could have been stood there as at the time as the fire destroyed even the floors of the building.
The second fire happened in 1952, shortly after Miskin Manor was altered from its war-time occupation as a hospital into post-war flats.
Researching further once I got home it seems that most of the manors paranormal activity seems to take place within the "oak room." This room has been a hot spot for various ghostly encounters with some people claiming to see an entire family of ghostly figures sitting around a table.
One of the most frequently seen spirits within here is that of a young girl who has been seen sitting in the corner, or the sounds of her laughing heard coming from the room when it is empty. Her apparition has been seen in the garden of the property but who she is or why she remains is unknown.
Another recurrently seen spirit within this room is the apparition of a man wearing early 20th-century civilian clothing, but again his identity is unknown.
Between the hours of midnight and 1 am, a ghostly lady has been seen gliding from the drawing room to the bar area where she vanishes. In one of the old layouts of the building, there was a staircase where the bar is now, so it seems she is stuck in a perpetual loop. Some staff of the manor claimed to have got used to seeing her!
I spoke to Psychic Medium, Psychologist and Editor of Supernatural magazine Norie Miles, and confirmed with her that in 2004 she came to Miskin Manor with a team of researchers to investigate the home for paranormal activity.
Although they felt a presence during their investigation, they saw nothing. While discussing the lack of ghostly action to owner Ben Rosenberg in the corridor, a large picture lifted off the wall by itself and crashed to the floor right in front of them!
As a venue, Miskin Manor cannot fail to disappoint its guests with its delightful restaurant and award winning gardens. I wonder how many unsuspecting guests experience something paranormal here and get more than they bargained for in the process, though? The receptionist I spoke to recalled a story of a guest taking an instant polaroid photo of two ladies in the hallway only to discover a third ghostly figure in the shot! It certainly is nothing to be afraid of as I felt this building was a rich tapestry of lives lived and lost and of strong personalities embossed in its walls and reverberated into the very soul of the building.
You cannot fail to love this place, and if I were looking for a wedding venue I would personally look no further than Miskin Manor, so I will certainly be returning to experience more of what is has to offer.
Have you been to Miskin Manor? Tell us about your experiences in the comment section below!
Watch Miskin Manor Video