Reading Time:
3
minutes
DOM COOPER tells how Screaming Lord Sutch performed 'Jack The Ripper' with a butcher's knife in one hand and rubber entrails in the other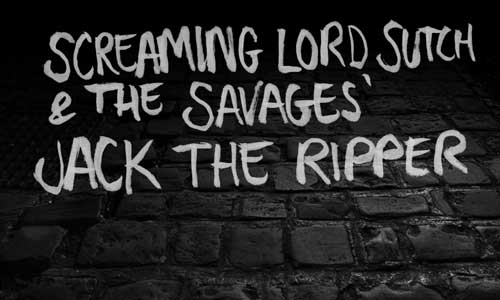 Scaring the young girls with his croak, cloak and red mouth, Screaming Lord Sutch creeps his way through a crowd.
Atop his head is a small top hat that looks like a glazed pork pie.
His hair is raven black, his face paled, his eyes sunken.
Draped on his shoulders is a tatty cloak, in his hand an old doctor's bag.
His band 'The Savages' play on the stage, calling out in repetition, 'The Ripper, Jack The Ripper'.
Each responding line from Sutch is delivered with a snarl, a sneer and a roar.
Words are spat out into the audience's faces, causing panicked screams. Sutch tells the song's tale simply with short lines, riffing on the Ripper legend with Victorian vaudeville menace.
There's a man who walks the streets of London late at night.
The Ripper, Jack The Ripper.
With a little black bag that's oh-so tight.
The Ripper, Jack The Ripper.
He's got a big black cloak hangin' down his back.
The Ripper, Jack The Ripper."
This live performance is a heightened version of the record 'Jack The Ripper' by Screaming Lord Sutch & The Savages. It was released on Decca in 1963 and produced by Joe Meek.
It starts with a blood curling scream, followed by a rendition of the 'Danger Ahead' motif from the series Dragnet, before chugging along at a fair pace with much more swagger than the live version.
Sutch gives his best rock 'n' roll performance and the Savages sing backing.
Guitars are wiry and drums are taut, keeping the three chord vamp going round and round.
Throughout, a high pitched sound punctuates the song, which is actually a treated saxophone note transformed by Meek magic.
Screaming Lord Sutch was born David Edward Sutch in 1940 and grew up in Harrow.
During the '50s he was an Elvis clone fixated by rock 'n' roll. During an audition in '59, Tom Littlewood, the manager of the 2 I's club, advised him to adopt a new look.
The audition had been over-saturated with Elvis and Buddy a-likes, and Tom said Sutch needed a fresh angle.
He subsequently found it in a second hand shop. 15 shillings later he glued two buffalo horns to a crash helmet and was reborn as a wild rocker with a gimmick, leading him to play at the club.
That year he adopted the stage name 'Screaming Lord Sutch, Third Earl of Harrow', reputedly because he was told he couldn't sing and just screamed instead.
Also, I believe he took the name as tribute to one of his idols, Screamin' Jay Hawkins.
His influences were many. Inspired by illusionist Max Miller he took to wearing capes.
He also grew his hair long which contributed to his wild look.
Inspired by Hawkins, Sutch started to incorporate props into his show as well, using coffins, skulls and other paraphernalia.
During the song 'Great Balls of Fire' he often used flames as a prop and almost set fire to many a set of stage curtains.
Antics loomed large in his act, bordering on the gaudy.
In '63 he performed 'Jack The Ripper' with a butcher's knife in one hand and rubber entrails in the other.
During a '77 performance in Bradford he was attacked onstage by a group of eight women who thought his song was in bad taste due to the recent Yorkshire Ripper case.
The song grew in reputation and became Sutch's most famous part of his rock horror act.
As he performed it time and time again with relish.
He kept on performing for 30 years or so via a move in to politics, but eventually manic depression, his mother's passing and major debt got the better of him and he committed suicide in 1999, hanging himself.
A tragic and gruesome end to a career that revelled in the gruesome.
Listen to Jack the Ripper by Screaming Lord Sutch