Reading Time:
2
minutes
FRANCES ABBOT ponders whether St Columba made the first recorded sighting of the Loch Ness Monster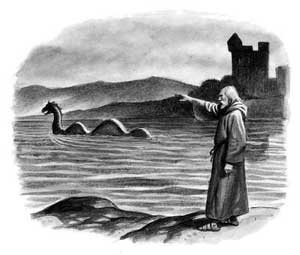 It is generally accepted that the first recorded sighting of the monster associated with Loch Ness occurred in the early 1930s when a couple driving along the road on the south side of the loch, saw a huge animal cross the road in front of their car.
It had a long neck about the thickness of an elephant's trunk and a prehistoric-looking body and it carried an animal in its mouth through the undergrowth and into the loch.
Once that was reported in a local newspaper many more sightings on land and in the water followed.
But that was not the first sighting of a monster by Loch Ness.
Did St Columba see the Loch Ness Monster?
According to Adamnan, Abbot of Iona and the biographer of Saint Columba writing a hundred years after the saint's death, Columba had an encounter with a great water beast in the year AD 565 while on his way to attempt the conversion of the Pictish King Brude whose power base was by Inverness.
On his journey up the Great Glen he had reached the place where Loch Ness flows into the River Ness and there saw a coracle floating upside down in the water.
He was told by bystanders that while fishing a man had been killed by a beast that came up from the water, pulled him from the boat and dragged him down under.
Columba instructed one of his followers to swim out and retrieve the boat.
The monk, Luigne, duly did as he was bid, but had not reached his objective when the huge beast reared up before him.
Columba made the sign of the cross and commanded the monster to leave the man alone, to go away and not come back.
It is said the great beast halted in its tracks and departed bellowing mightily.
Was St Columba's water beast the first recorded sighting of the Loch Ness Monster?
Adamnan made many claims for miraculous deeds by Columba, but this is the one that seems to have some relevance to the modern day.