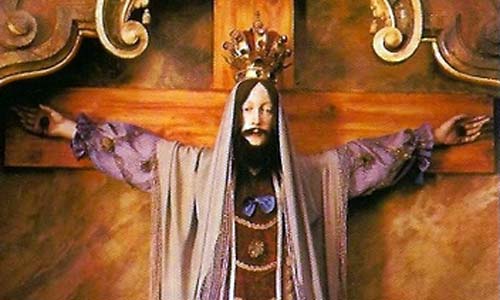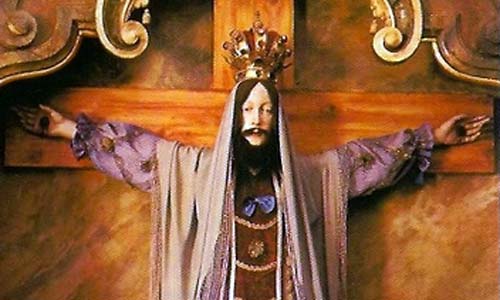 ---
A saint to put hairs on your chest! JACOB MILNESTEIN explores the sad fate of Saint Wilgefortis, the woman who miraculously grew a beard and was crucified for it.
---
Having a beard might not seem a good enough to nail someone painfully to a cross. Sadly, in the case of St Wilgefortis, facial hair was exactly the crime of which SHE was convicted.
Beaten mercilessly and humiliated by her family, this alleged 13th century saint was paraded through the streets by the authorities and eventually nailed up beyond the city walls as a warning to any who might embrace the new religion.
According to the fable, she hung upon the cross outside that unnamed Portuguese city for hours; Christ-like in her appearance yet dressed in accordance with her sex.
Often known by the name of Uncumber in England, Wilgefortis never truly existed in a historical sense.  Although her name gave rise to use of the English word 'disencumber', a term used to suggest the relief of a burden, the actual saint has no real grounding in history.
Yet unlike the later myth of the equally fictional Pope Joan, St Wilgefortis was a figure more favourably regarded of by the cults who adhered to her tale in Britain, Germany and Italy during the 14th century.
Instead, this fanciful story of contempt for bearded women stems from a misinterpretation of a detailed and embellished carving of Christ's crucifixion from the 11th century named the Volto Santo of Lucca.
This famed portrait of Christ was dressed in such a way that confused many audiences due to its similarity to feminine attire. As such, a myth was invented to explain away the robes Christ wore, transforming the crucified figurehead into a martyred saint.
Portrayed as the daughter of a pagan noble struggling to resist an arranged marriage, Wilgefortis, in her desperation prayed that God might make her so ugly that she would no longer be desirable, hence the sprouting of her lengthy beard.
Both her defiance and her appearance soon led to her crucifixion, or so the story goes.
Due to her sacrifice and regardless of her fictional origins, St Wilgefortis is oft remembered as the patron saint of women wishing to be free of abusive husbands.
In this, it seems that even if she was never real, the message of this curiously bearded saint is a very important one.
---
JACOB MILNESTEIN writes stories. His most recent story, "lecteur de tarot" can be found here.
---