Reading Time:
2
minutes
John Gould went down in history (in more ways than one) as the last man to be publicly executed at Reading Gaol. NICOLA CARPENTER describes the unspeakable crime that led him to the gallows.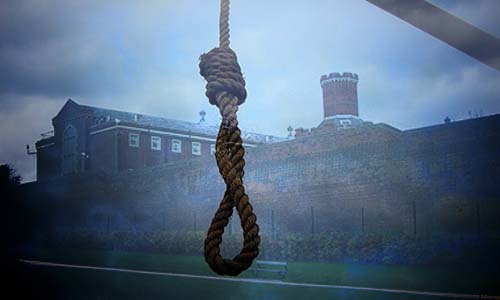 "Good people all I pray attend,
On earth my life will shortly end,
For dreadful murder my life is took away,
I my dear child is basely slay,
I gave her the sad and dreadful wound,
And left her bleeding on the ground,
John Gould is my name,
I bought myself to grief and shame,
To grief and shame it does appear,
In Windsor Town in Berkshire,
My early grave will be made soon,
No tears will fall on my earthly tomb;
No flowers or grass on my grave will rise,
No stone will mark where m body lies."
(Verse was written at the time of Gould's execution in 1862)
On 30th December 1861 at his home in Clarence Clump, Clewer near Windsor, Berkshire, John Gould a hod carrier, aged 39, murdered his seven-year-old daughter, Hannah.
Little Hannah had spent the 30th December playing with her best friend, 9-year-0ld Harriet Clarke and Harriet's younger brother.
Around one in the afternoon, John returned home after drinking at The Prince of Wales beer shop to find that Hannah had not cleaned the house to his satisfaction, nor did she have the fire ready for him to warm himself by. John started shouting at Hannah: "You naughty child, why didn't you clean up the place!"
"Oh, father I couldn't do it," Hannah cried, but her tears only served to anger John further.
Taking his cut-throat razor, John slit Hannah's throat.
He then summoned his neighbour Mrs Clarke, Harriet's mother, to his home.
Pointing at his daughter he exclaimed, "I have done it! I have done it!"
Horrified, Mrs Clarke ran into the street shouting for help to all that would listen.
John, still in a terrible rage grabbed Hannah's limp body and threw her into the street shouting, "you little s**t, I will die for you!"
According to witnesses, John threw Hannah with such force that her head hit a wall with a "sickening squelching noise".
Samuel Wilkins, aged 12, who lived next door managed to drag Hannah, hardly breathing and struggling for life, away from the house before shouting for help.
Another neighbour Mr Coker, helped Samuel carry Hannah to the nearest infirmary, where Hannah's mother worked as a nurse.
Unfortunately, nothing could be done and Hannah died on the way.
Mr Coker and Samuel returned with PC Radbourne to find John waiting in the doorway of his home still with the blood-soaked razor.
John Gould was tried on 26th February 1862, evidence was submitted as a formality as John had repeatedly confessed his guilt.
The jury retired for a short time before finding him guilty of murder.
On 12th March 1862, 4000 men, women and children gathered to watch William Calcraft send John Gould to his maker.
Once the bolt was withdrawn, John struggled for a minute or two and then was gone.
Such was the outcry over the manner of John Gould's execution that it was to become the final public execution performed at Reading Gaol.