Reading Time:
2
minutes
NIA JONES reveals the secrets of Cantre'r Gwaelod – the Welsh Atlantis.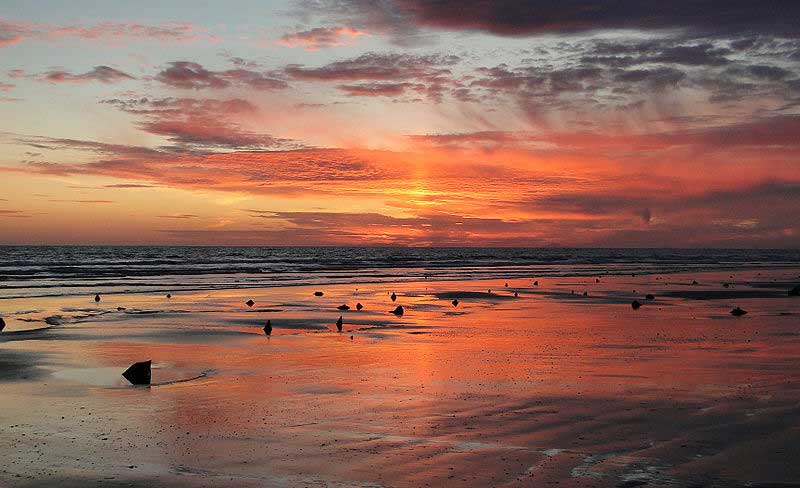 Many versions of the Cantre'r Gwaelod legend exist; having been passed down from generation to generation.
There was a time when, if you looked out towards Ireland from the Dyfi Estuary, you would see fertile lands stretching out some 20 miles into what is now Cardigan Bay. Until the 17th Century, this lost land was called Maes Gwyddno (the land of Gwyddno) ruled as part of the Kingdom of Meirionnydd by King Gwyddno Garanhir (Longshanks).
But the legend which is known and told today, calls the land Cantre'r Gwaelod (the Bottom hundredth). Protected from the sea by a large dyke with gates that were opened at low tide to drain the water from the land and closed again as the tide returned.
But one night the carelessness of Seithennin, the dyke watchman caused the drowning of Cantre'r Gwaelod.
Seithennin had long been deeply in love with King's daughter and on her wedding day he couldn't bear the thought of watching the princess marry another man, so he slunk into dark corners and hid away.
Unable to bear the pain in his heart he drank copious amounts mead to numb his despair; and within hours he was drunk and sound asleep.
Dark storm clouds soon gathered over the Irish sea and heavy rain began to lash the walls of Cantre'r Gwaelod.In a deep slumber Seithennin was unaware of the rising tide and violent waves crashing in through the open sea gates.
Seithennin suddenly awoke and rushed to raise the alarm, staggering to the banqueting hall screaming at the wedding guests to evacuate to dry land, but it was all too late.
The King and some of his subjects managed to escape, but Seithennin was drowned trying to guide his true love and her husband to dry land.
Cantre'r Gwaelod was claimed by the sea that fateful night, over half the population losing their lives.
It is said in times of danger in the area or if there is a boat
in trouble haunting bells can be heard chiming. On Sundays,if you listen carefully on the shores of Cardigan Bay in Aberdyfi – you can hear the bells of Cantre'r Gwaelod ringing beneath the dark waters of the Irish Sea.
A lovely piece of Welsh poetry by poet JJ Williams sums up the tale of Cantre'r Gwaelod translated below:
Clychau Cantre'r Gwaelod
O dan y Môrâ'idonnau (Beneath the Sea and its waves)
Mae llawerdinasdlôs (There are many fair cities)
Fu'ngwrandoar y clychau (That have listened to the bells)
Yncanugyda'rnôs;(Ringing at nightfall)
Trwyoferesgeulustod (Through the idle negligence)
Y gwyliwrar y twr, (Of the watchman on the tower)
AethclychauCantre'r Gwaelod (The bells of Cantre'rGwaelod)
Ô'rgolwgdan y dwr. (Disappeared beneath the water.)