The Tour 2014 is a slick paranormal short horror film, says EMMA DARK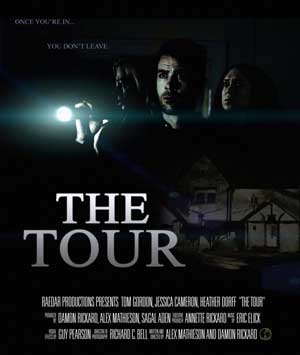 The Tour 2014 is a modern British horror short by British film makers Alex Mathieson and Damon Rickard that focuses on a mysterious haunted manor.
In direct reflection of many establishments currently across the UK, all claiming to be the most haunted house, pub, restaurant etc. the fictional Darkmoor Manor is doing exactly this, claiming to be the most cursed house in Britain.
Of course, the town of Darkmoor relies heavily on the abundant tourism generated by the infamous manor. As such there are continued reports of ghostly goings on, ensuring a steady stream of visitors, even including reports of those entering the manor disappearing or coming to a sticky end.
Whatever will happen when two pretty American tourists decide to take up a dashing tour guides offer of entering the haunted house after dark?
The Tour stars two of the independent horror scenes hottest up and coming actresses – Jessica Cameron (who has also just released her first feature film behind the camera as director – Truth or Dare) and Heather Dorff. British stage actor Tom Gordon features as the hunky tour guide.
This is an extremely professionally shot short with the slick look and feel of a feature film. At only 14 minutes and 45 seconds it feels longer, in an entirely good way. It would be perfectly reasonable when watching to assume that this may be a pilot episode of a new glossy British TV series, infact it rather should be, I for one would like to see more!
The Tour is directed by Alex Mathieson and Damon Rickard, with Richard C Bell as director of photography.
Tell us your thoughts about The Tour 2014 in the comments section below!
Watch The Tour 2014