---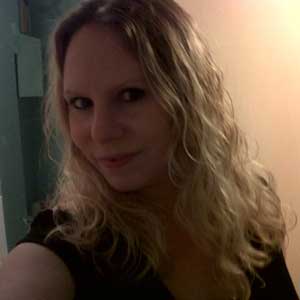 This is the first of our new regular series profiling British and Irish paranormal investigators. Today, Spooky Isles interviews Tressa Yeomans, founder of Rugeley Supernatural Society(RSS)  who has been investigating the paranormal for 12 years. She is based in Rugeley in Staffordshire and is interested in history and EMF phenomena.
---
What was your first Paranormal encounter?
Seeing a friend standing in my bedroom that had died in a car accident weeks before.
---
Do you believe in ghosts, and if so, what is a ghost?
I do believe you carry on after death.  A ghost is an  apparition of a dead person that is believed to appear or become manifest to the living.
---
What evidence have you personally uncovered that makes you consider ghosts are real?
Voices of the deceased, pictures of ghosts/spirits of people, we have received confirmation that are past on.
---
Are you skeptical of the claims others make of their findings?
I try not to be as I was not there to witness the evidence captured, so I do not know the environment they were in or what was happening at the time of the capture. But some evidence you can debunk straight away.
---
How do prepare for a ghost hunt?
Complete kit check. Camera and camcorders are charged and in good working order. Torches and light working. Team are happy and know what is happening. We know the site layout. We know the history and plenty of music 🙂
---
What tips would you give for someone going on a paranormal investigation for the first time?
Know your history, do your research – where you are investigating and what paranormal encounters people have witnessed, if any.
---
What is your favourite piece of paranormal investigation equipment?
My mind and body. Silly as that may sound, I rely on these two things the most when investigating. Regarding, tech equipment digital recorder.
---
Are you psychic? Do you consider being psychic a help or a hindrance for paranormal investigations?
No, I am not psychic, and I have worked with psychics before. This is my only personal opinion: To me, it does not help with investigations but I would never turn away the opportunity to gain more knowledge in an investigation.
---
What makes a great haunted location?
The people who have passed and still reside at the location and the history.
---
If you could investigate any haunted location, where would that be?
Buckingham Palace has to be the number one location for me.
---
What scares you about Ghost Hunting or Paranormal Investigations?
My team coming to any harm and being injured that scares me the most as I love those guys.
---
In your opinion, what is the most haunted area in the UK or Ireland?
Wow, umm, Scotland is an incredibly haunted place so would have to say Scotland.
---
Read any good paranormal books or watched any good paranormal TV shows/movies recently?
Always reading books (yes I am a nerd) Haunted West Midlands by Richard Felix. Paranormal shows? My guilty pleasure is Ghost Adventures as I love how those guys go about an investigation.
---
Tell us about your favourite moment from a paranormal investigation.
My favourite moment from an investigation would have to be Craig Y Nos Castle, capturing a face looking straight at me through a open door when I knew no one was in the area. That was awesome. And hearing singing.
---
Tressa Yeomans is a paranormal investigator with Rugeley Supernatural Society.
Check out the Rugeley Supernatural Society Website here and follow their Twitter here.
---