Bloody Britain, at least we've got Hammer!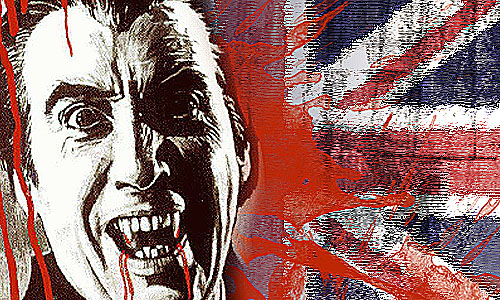 ---
Guest writer KATIE DOHERTY says living in Britain has its ups and downs. But even at its worst, the UK has Hammer Horror and that makes everything okay!
---
A British girl living in her world of romantic Gothicism together with an obsession with Hammer Horror surely is the right candidate to talk about what it means to her British identity? Indeed, this is me, Katie Dirge, writer and horror fiend. I am not here to comment on gender, politics or social struggles.
I don't claim that all British folk have the same opinion as me on this subject but I do bring horror, blood and my very own British view on the wonderful world of Hammer Horror.
Living in Britain has its ups and downs. We are the ones that have picnics in the rain, drink gallons of tea and run to the nearest park when the sun comes out – to some this is such a funny way of life but to us it is just the British way.
As a nation we have been called eccentric, quaint amongst other things (not always flattering I might add) but we have done one thing, we have painted your screen red with the blood of Hammer Horror and given the rest of the world a little taste of Britain.
Related Posts via Taxonomies