TODAY Sir Christopher Lee celebrates his 90th birthday. Writer KATIE DOHERTY is slightly obsessed with the Prince of Darkness if this article is anything to go by!
He stands at 6'5, has the most mesmerising eyes in the history of horror and every female fan willingly offers their neck to him when he appears on their screens. To this day he continues to make films and causes women to go weak at the knees.
So, to begin at the beginning.
With such an amazing life where am I to begin? Well, I have certain memories, they play like a cinematic flashback, a montage of horror films go through my mind but one thing I do remember is the lack of torture and dismemberment within my "horror diet". I only remember the grand gothic houses or the little Cornish villages some of which featured a rather tall and handsome gentleman who graced the screen and put fear in the hearts of those who watched, of course I am talking about the enigma of Christopher Lee. So what is it about him that I love so much?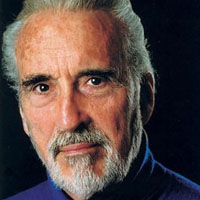 For me, the man can act. We must remind ourselves that acting is not just about learning a few lines, it is about how you use your voice and your body language. His height and dark and brooding looks are rather advantageous when you are playing one of the most frightening figures on the big screen. Bela Lugosi made an excellent Count Dracula but Christopher Lee seems to have been crowned the king by many fans. It has been mentioned in the past about Lee's frustrations over a lack of words within his role as Dracula but for me I see this role as using more body language than words, for me it is about the look of the monster. I see it very much like Michael Myers from John Carpenter's Halloween, his walk and body language is something that creeps the hell out of a lot of people, for me Dracula does the same.

If we read the description of Dracula within Bram Stokers tale we can see that Lee brought a very different look and feel to the Count. To start with he was extremely attractive and the very sight of those fangs penetrating a young ladies neck brought a woman to her knees. Forget True Blood, this vampire oozed sexuality, from the bright red blood on the pale skin of the young maidens cleavage; it brought fans out in a clammy disposition.

But let's move away from the Count and take a moment to remember Lee's other roles. From Hammer films such as the mad monk Rasputin, the gentleman of the occult in The Devil Rides Out, To the Devil a Daughter and numerous other films not to mention Star Wars and Lord of the Rings plus cameos in the recently resurrected Hammer Films.  It is very telling when someone who reaches 90 has such a spectrum of roles with genres such as horror, science fiction, and fantasy with lots of voice parts in-between – his diverse CV just shows how much of a legend this man really is. But before he became the dark lord we all love and know where did he come from? Who is Christopher Lee? Let's turn the clock back 90 years…

Christopher Frank Caradini was born in London, the year was 1922. After leaving school he carried out various jobs and then began his services within the Armed Forces during World War Two. This young fellow wasn't to go back to a normal job, oh no, he made his film debut in Terence Young's Gothic romance Corridor of Mirrors in 1947 and never looked back. He went on to play various roles one of which sticks in the mind of all horror fans, Count Dracula. But Sir Christopher Lee's talents do not stop here, a classically trained singer, he managed to bag himself a Metal Hammer Golden God Award for the symphonic metal concept album Charlemagne- By the Sword and The Cross. In 2009 he was knighted by Prince Charles making him Sir Christopher Lee – a title he suits so well.

If I were to meet him I think I would have two words to say to him – thank you. He has brought me so much joy over the years with his onscreen presence; this quintessential English gentleman has created a phenomenon and continues to help keep our blood lust alive.

Happy Birthday to you Sir Christopher Lee.

<!-comments-button-->