REVIEW: Jack the Ripper's Secret Confession
---
Guest writer ADAM GREENWOOD reviews "Jack the Ripper's Secret Confession: The Hidden Testimony of Britain's First Serial Killer" written by David Monaghan and Nigel Cawthorne
---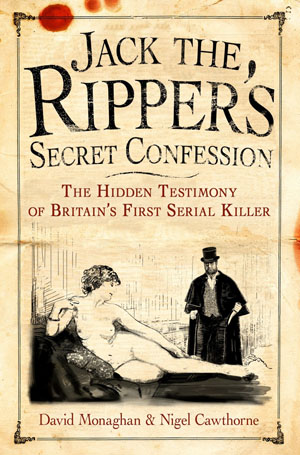 For the best part of 20 years, I have been intrigued by the case of Jack the Ripper, particularly the many theories on the identity of the killer or killers. When I picked up this book I was intrigued as here was a suspect I had never come across before. The more I read, however, the more convinced I became that said suspect was categorically not the Ripper.
The facts in the case are as follows. Between August and November 1888, five prostitutes were murdered in the East End of London and their bodies horribly mutilated. It was believed that a single killer was responsible for these crimes and this shadowy figure was known as "Jack the Ripper" in the media and public imagination. The killer or killers were never caught and their identity has remained a fascinating mystery ever since. Around the same time, another mysterious figure known only as "Walter" was publishing, in instalments, an account of his life and sexual exploits, written to titillate other Victorian Gentlemen. There has been some debate amongst scholars as to the identity of Walter and whether this extensive work should be considered an autobiography or a novel and opinion remains split. It is the contention of this book that Walter and Jack the Ripper were one and the same.
So, what are the clues that lead the authors of this book to conclude that the mysterious Walter was also the Ripper? The simplest and most plausible reason given is that these two individuals were known to be active in the same place at the same time and, while he mentions many other national events and incidents which were deemed newsworthy at the time, Walter makes no mention of the Ripper or his crimes. This argument from silence suggests that Walter did not want people in general linking him with the crimes but that clues were left for those who knew how to look. This, I fear, is where the argument starts to fall down.
First of all, many chapters of the book are dedicated to providing evidence of Walter's taste for young teen girls. Certainly, in his youth or when he was short on funds he would go with any woman who would have him, regardless of their age or attractiveness but his preference was always for pretty young girls. Of the five Ripper victims, however, four were over forty and not noted for their beauty. When reading these chapters, I was a little confused as to what point the authors were trying to make as this seemed to me to be far more evidence against Walter being the Ripper than for it.
Related Posts via Taxonomies