Reading Time:
4
minutes
Who was Jack the Ripper? Ripperologist JON REES continues his Spooky Isles series into the Jack the Ripper Murders. Today, Jon outlines the Whitechapel killings with this easy-to-follow explanation of the case. (Learn this stuff and you can sound like an expert!)
So who was Jack the Ripper?
Put simply – we don't know. He was a serial killer who killed at least five women in the Autumn of 1888 in the Whitechapel area of London. The motives for which differ depending on the theory – some may say he was sexually motivated, others by revenge and some think that he was trying to cover something up. I'll discuss my personal theories another time.
The name Jack the Ripper originates from a letter and a postcard sent to the Central News Agency shortly before and immediately after the Double Event. It is now generally agreed these letters were hoaxes.
What did Jack the Ripper do?
It is generally agreed he killed 5 women – Mary Ann Nichols, Annie Chapman, Elizabeth Stride, Catherine Eddowes and Mary Jane Kelly. These are known as the canonical victims – they were the five victims agreed upon by Police Surgeon DrThomas Bond and later Assistant Chief Commissioner Melville Macnaghten as being killed by the same hand. Some Ripperologists will discount Stride or Kelly, or add in Tabram, McKenzie or Coles.
The following description contains quite graphic details of murder and post mortem mutilation, so you may wish to stop reading at this point.
In order the main possible Ripper murders are:
Martha Tabram, 8 August 1888
Martha Tabram was found in George Yard with 39 stab wounds to her torso. Was possibly murdered by a soldier she was seen going off with earlier that evening.
Mary Ann (Polly) Nichols, 31 August
Mary Ann (Polly) Nichols was found in Bucks Row (now Durward Street) with her throat cut. When her body was transported to the morgue it eas discovered she had been mutilated in the lower abdomen region.
Annie Chapman, 8 September
Annie Chapman was discovered in the back yard of 29 Hanbury Street. Her throat had been cut (with some evidence of prior strangulation), her abdomen had been cut open with her intestines removed and thrown over her shoulder and part of her uterus had been removed.
Elizabeth Strides, 30
September
(The Double Event), approx. 12.50am

Elizabeth Strides was body is found in Dutfields Yard, Berner Street. Her throat was cut but there were no mutilations. Some believe that Louis Diemshutz who discovered the body may have interrupted the murder and that the killer was still in the yard hiding when he went to summon help.
Catherine Eddowes, 30 September
(The Double Event), Between 1.35-1.45 am
Catherine Eddowes is murdered in Mitre Square, City of London. Her throat was cut, intestines removed and placed near the body, her face mutilated with cuts and part of her uterus and a kidney was missing. Part of Eddowes apron stained with blood and fecal matter was found in the doorway of Wentworth Model Dwellings on Goulston Street later that night, beneath graffiti reading "The Juwes are the men that Will not be Blamed for nothing". Part of a kidney claiming to be from Eddowes was sent to George Lusk of the Whitechapel Vigilance Committee on 16 October. The letter accompanying it had the return address "From Hell".
Mary Jane Kelly, 9 November
Mary Jane Kelly was the Ripper's most brutal murder. Found in her room as 13 Millers Court off Dorset Street, she was mutilated beyond recognition. Her arms, legs and face mutilated, her breasts and organs removed and placed around her body, and many believe the killer took her heart.
Alice McKenzie, 17 July 1889
Alice McKenzie was found in Castle Alley with her throat cut and other minor abrasions. Dr Bond believed she was a Ripper victim, but Dr Phillips disagreed.
Frances Coles, 13 February 1891
Frances Coles was found in Swallow Gardens under a railway arch with her throat cut. A man she was seen with earlier in the evening was charged with the murder, but was later discharged from court due to lack of evidence.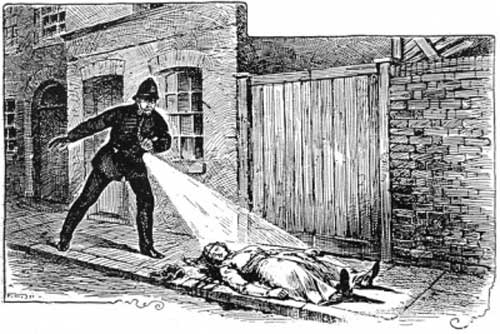 Why the interest in Jack the Ripper?
To put it simply – the mystery. Ripperologists are amateur detectives at heart, and even those who do not study or theorise directly upon who the Ripper was still will do some detective work – be it trying to identify the unknown origins of Mary Kelly or tracking down a long lost location from old OS maps. Mystery draws us to the case and keeps it alive.