Reading Time:
6
minutes
NICOLA CARPENTER reveals the locations of Jack the Ripper victims graves

In 1888 a monster stalked the streets of London. Jack the Ripper was to claim the lives of five woman and possibly more on those dark streets. But after brutal crimes and the ensuing investigation, what happened to Jack's victims?
Mary Ann Nichols
City of London Cemetery, Manor Park, Ilford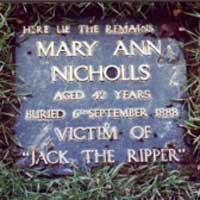 "Here lie the remains of Mary Ann Nichols aged 42 years Buried 6th September 1888 Victim of Jack the Ripper."
Mary Ann Nichols was an alcoholic, left by her husband William Nichols and her lover Drew and sacked from her employment for stealing, Mary Ann had turned to the streets to make her living. She was lodging at 18 Thrawl Street with fellow prostitute Nelly Holland before being evicted on 29th August for lack of money. Mary was last seen alive by her friend Nelly at 2:30am on the morning of 31st August on the corner of Osborn Street. She was then discovered murdered at 3:45am in Buck's Row.
Mary Ann remained in the Whitechapel mortuary until the morning of 6th September when she was placed into a wooden coffin and taken to The City of London Cemetery in Ilford for burial. A simple black stone with gold lettering marks her final resting place.
Annie Chapman
Manor Park Cemetery and Crematorium, Forest Green
In 1869 Annie married John Chapman a coachman and to start with their lives seemed to be happy ones. However their youngest child and only son John was born disabled in 1880 and their eldest child Emily Ruth died of meningitis in 1882 aged just 12.
Soon after John's birth and Emily's death both Annie and her husband John turned to drink for solace, finally separating in 1884. In the beginning of 1886 Annie moved to Whitechapel and to make ends meet started selling flowers and crochet work. Annie's husband continued to pay her an allowance of 10 shillings until the end of 1886 when the payments abruptly stopped.
Annie had no choice but to turn to prostitution to survive and avoid the workhouse. Annie had been living in a common lodgings house at 35 Dorset Street Spitalfields, when on the evening of 7th September she found herself without money to pay for her lodgings. She left to work the street and wasn't seen again until her mutilated body was discovered at 6:00 on 8th September in the yard of 29 Hanbury Street.
Annie Chapman's funeral and burial was kept secret so as to not attract the attention of the public. On the morning of 14th September she was placed into a black draped elm coffin and taken from the Whitechapel mortuary to Manor Park Cemetery on Sebert Road without a funeral cortege. There she was buried in a public grave. Annie's grave no longer exists as the ground has been reused. However cemetery records indicate that at one time a memorial was placed that stated:
"Within this Area lie the Mutilated Remains of Annie Chapman, who was interred here in Grave No. 78 on the 14th of September in the year 1888."
Elizabeth Stride
East London Cemetery, Plaistow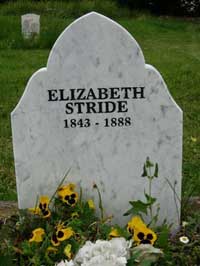 "Elizabeth Stride 1843 – 1888"
Elizabeth had come to England from Sweden in 1866. In 1869 she married John Thomas Stride and for a short while they ran a Coffee Room in Popular London. By 1881 John and Elizabeth had separated and to gain financial support from the church Elizabeth lied saying that her husband and their children had died on the sinking of the Princess Alice. In fact John died of TB in a paupers hospital five years after the Princess Alice disaster. When the church discovered Elizabeth's deception they halted all financial aid. Elizabeth had no choice but to fall back on to a career she had learnt in Sweden, prostitution.
On the night of her murder several witnesses observed Elizabeth with different men around the Whitechapel area. She was last seen by PC William Smith at 12:35am talking with a man opposite the International; Working Men's Educational Club at 40 Berner Street. Elizabeth's still bleeding body was discovered at 1:00am the morning of 30th September in the yard of the working men's club.
Elizabeth was buried on 6th October at the East London Cemetery in Plaistow, grave number 15509, square 37. The cost of her sparse funeral was covered by the parish. Elizabeth's grave is marked by a simple white gravestone bearing her name, year of birth and year of death.
Catherine Eddowes
City of London Cemetery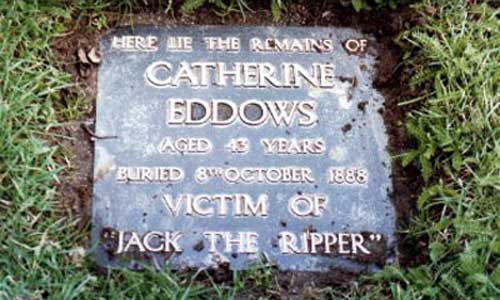 "Here lie the remains of Catherine Eddows aged 43 Buried 8th October 1888 Victim of Jack the Ripper."
At the time of her murder Catherine Eddowes, known to friends as Kate Kelly, was lodging with her second common law husband John Kelly after splitting with her first common law husband Thomas Conway. To avoid his ex partner and her troubles with drink Thomas Conway drew his army pension under the name Thomas Quinn and kept his address and that of their children secret from Catherine.
The evening before her death Catherine was found to be laying in the street drunk and was arrested by PC Louis Robinson and taken to Bishopsgate Police Station where she was detained until she had sobered up at 1:00am the morning of 30th September. Catherine was last seen alive by three witnesses who were leaving a club in Duke Street at 1:35am. Catherine was observed standing talking to a man at the entrance of Church Passage. Just 10 minutes later Catherine's mutilated remains were discovered in Mitre Square by PC Edward Watkins. His beat had previously taken him past Mitre Square at 1:30am where he noticed nothing unusual.
Catherine was buried on 8th October in a coffin made of elm at the City of London Cemetery in an unmarked public grave. Only John Kelly and Catherine's sister attended her burial. The area of Catherine's grave has since been re-used as part of the Memorial Gardens for cremated remains. In late 1996, cemetery authorities decided to mark her grave with a simple black plaque with gold lettering.
Mary Jane (Marie Jeanette) Kelly
St, Patrick's Roman Catholic Cemetery, Leytonstone.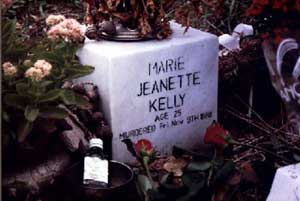 "In loving memory of Marie Jeanette Kelly – None but the lonely hearts can known my sadness love live forever – Marie Jeanette Kelly aged 25 murdered Fri Nov 9th 1888."

Mary Jane (real name Marie Jeanette) as born in Limerick Ireland and moved to London in 1884 to live with her cousin after her husband Davis had died in a colliery explosion. Soon after she began drinking heavily and turned to prostitution to fund her alcoholism.
The afternoon of 8th November, Mary Jane Kelly left her lodgings at 26 Dorset Street, indicating that she would not return until the next day. One of Mary's neighbours, a prostitute named Mary Ann Cox, ater testified that she saw Mary on the street about midnight, apparently the worse for drink and with a customer heading back to her lodgings.
Other neighbours testified that they heard her singing in her room until about 1:00 am. When Mary Ann Cox returned to her lodgings around 3:00 am, Mary's room was dark and silent.
Mary's body was later discovered at 11:00 the morning of 9th November, when the assistant landlord, Thomas Bowyer went to collect the overdue rent.
Mary Kelly was buried in a public grave at St. Patrick's Roman Catholic Cemetery on 19th November, gave number 66, row 66 plot 10. Her obituary ran as follows:
"The funeral of the murdered woman Kelly has once more been postponed. Deceased was a Catholic, and the man Barnett, with whom she lived, and her landlord, Mr. M. Carthy, desired to see her remains interred with the ritual of her Church. The funeral will, therefore, take place tomorrow in the Roman Catholic Cemetery at Leytonstone. The hearse will leave the Shoreditch mortuary at half-past twelve.
The remains of Mary Janet Kelly, who was murdered on Nov. 9 in Miller's-court, Dorset-street, Spitalfields, were brought yesterday morning from Shoreditch mortuary to the cemetery at Leytonstone, where they were interred.
No family member could be found to attend the funeral."
Have you been to any of these Jack the Ripper victims graves? Tell us in the comments section.
For more creepy topics from Berkshire's NICOLA CARPENTER, you can read her blog here.