Ripper Victims: Their Final Resting Places
---

---
NICOLA CARPENTER reveals where Jack the Ripper's five victims are buried
---
In 1888 a monster stalked the streets of London.  Jack the Ripper was to claim the lives of five woman and possibly more on those dark streets.  But after brutal crimes and the ensuing investigation, what happened to Jack's victims?
Mary Ann Nichols.  City of London Cemetery, Manor Park, Ilford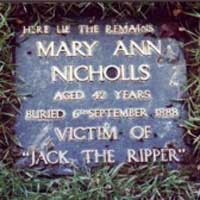 "Here lie the remains of Mary Ann Nichols aged 42 years Buried 6th September 1888 Victim of Jack the Ripper."
Mary Ann Nichols was an alcoholic, left by her husband William Nichols and her lover  Drew and sacked from her employment for stealing, Mary Ann had turned to the streets to make her living.  She was lodging at 18 Thrawl  Street with fellow prostitute Nelly Holland before being evicted on 29th August for lack of money.  Mary was last seen alive by her friend Nelly at 2:30am on the morning of 31st August on the corner of Osborn Street.  She was then discovered murdered at 3:45am in Buck's Row.
Mary Ann remained in the Whitechapel mortuary until the morning of 6th September when she was placed into a wooden coffin and taken to The City of London Cemetery in Ilford for burial.  A simple black stone with gold lettering marks her final resting place.
Annie Chapman.  Manor Park Cemetery and Crematorium, Forest Green
In 1869 Annie married John Chapman a coachman and to start with their lives seemed to be happy ones.  However their youngest child and only son John was born disabled in 1880 and their eldest child Emily Ruth died of meningitis in 1882 aged just 12.  Soon after John's birth and Emily's death both Annie and her husband John turned to drink for solace, finally separating in 1884.  In the beginning of 1886 Annie moved to Whitechapel and to make ends meet started selling flowers and crochet work.  Annie's husband continued to pay her an allowance of 10 shillings until the end of 1886 when the payments abruptly stopped.  Annie had no choice but to turn to prostitution to survive and avoid the workhouse.  Annie had been living in a common  lodgings house at 35 Dorset Street Spitalfields, when on the evening of 7th September she found herself without money to pay for her lodgings.  She left to work the street and wasn't seen again until her mutilated body was discovered at 6:00 on 8th September in the yard of 29 Hanbury Street.
Related Posts via Taxonomies