---
Frankenstein Galvanized, launched recently at Covent Garden,  is a new edition of the classic Mary Shelley gothic tale
---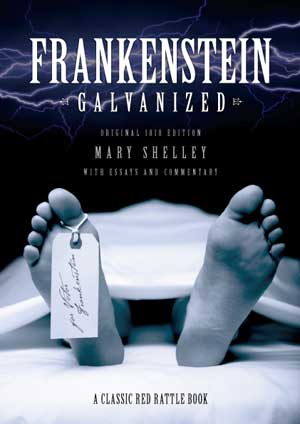 Spooky Isles was pleased to attend the book launch of Frankenstein Galvanized, a new book of essays and the original essays about the Mary Shelley Gothic masterpiece, in Covent Garden recently.
We chatted to some of the authors of the book, including publisher Howard Jackson and editor Claire Bazin, about the purpose of another Frankenstein anthology and found them to be refreshing and enthusiastic about the work.
Spooky Isles will review the book in coming weeks, but in the meantime (and because it's Friday night and we're feeling a wee bit tired) here is a copy of Red Rattle Books' media release, which sums up in the Covent Garden book launch pretty well.
---
'Frankenstein Galvanized' hits the ground running in Covent Garden
A galvanized Frankenstein and his Creature made a cool appearance on the large screen at the atmospheric and hip 7 Dials Club in Covent Garden, London. On Thursday, 27th September, an enthusiastic crowd, including writers, academics, webmasters, fans and friends, welcomed the release of a new edition of the famous Mary Shelley novel.
As well as the novel by Shelley, 'Frankenstein Galvanized' contains 8 original essays. These range from a history of Mary Shelley and early Gothic Literature to radical interpretations of themes and characters. Various strands of literary theory are represented.
Claire Bazin, the editor of 'Frankenstein Galvanized', who had travelled from her home in Paris to be at the launch, met Frankenstein fans and signed copies. The tale of Frankenstein continues to create discussion and debate. Claire was available to answer questions and illuminate the complex themes within the book. Inevitably, so much literary chatter and enthusiasm meant that the event overran. But eventually the Frankenstein enthusiasts were ushered outside late into a dark London night.
Howard Jackson, director of Red Rattle Books, has previously written 'Treat Me Nice' which compares the life of Elvis Presley to that of the Frankenstein Creature. His essay for 'Frankenstein Galvanized', 'The Finishing Touch', looks at the 1818 and 1831 versions written by Mary Shelley. He was asked why Red Rattle Books had used the first version of the novel. Howard replied, 'I'm glad we used the 1818 version. It deserves a showing. The first edition of the novel has a sense of the author discovering the horror in her subject. To me the 1818 version feels just a little more Gothic.'
'Frankenstein Galvanized' is now available on Amazon here and in bookshops next week.
---
You may also like to read: