'Frankenstein Galvanized' launched in Covent Garden
---
Frankenstein Galvanized, launched recently at Covent Garden,  is a new edition of the classic Mary Shelley gothic tale
---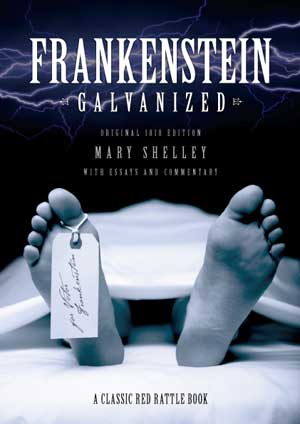 Spooky Isles was pleased to attend the book launch of Frankenstein Galvanized, a new book of essays and the original essays about the Mary Shelley Gothic masterpiece, in Covent Garden recently.
We chatted to some of the authors of the book, including publisher Howard Jackson and editor Claire Bazin, about the purpose of another Frankenstein anthology and found them to be refreshing and enthusiastic about the work.
Spooky Isles will review the book in coming weeks, but in the meantime (and because it's Friday night and we're feeling a wee bit tired) here is a copy of Red Rattle Books' media release, which sums up in the Covent Garden book launch pretty well.
---
'Frankenstein Galvanized' hits the ground running in Covent Garden
A galvanized Frankenstein and his Creature made a cool appearance on the large screen at the atmospheric and hip 7 Dials Club in Covent Garden, London. On Thursday, 27th September, an enthusiastic crowd, including writers, academics, webmasters, fans and friends, welcomed the release of a new edition of the famous Mary Shelley novel.
Related Posts via Taxonomies