REVIEW: Frankenstein Galvanized
---
SARAH PARKIN reviews Frankenstein Galvanized, a new edition and essays on the Mary Shelley classic
---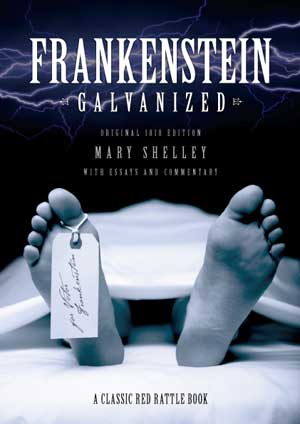 For readers already familiar with Mary Shelley's masterpiece, the title Frankenstein Galvanized will probably be confusing.
Of course, the idea of bringing the text to life is appropriate for this wide-reaching edition, illuminated by essays from a range of academic and non-academic writers.
But as the very demand for an edition of this nature demonstrates, the classic tale of the scientist who swiftly regrets his experiments in man-making isn't actually dead.
It's a phenomenon, and one that's lasted for nearly two hundred years: the continuing presence of Frankenstein and the Creature in popular culture has ensured a constant stream of new bindings and interpretations. If ever there was a saturated market, it's this one, and any new edition of the novel has to work hard to find a gap to fill.
In many ways, then, Frankenstein Galvanized is already fighting an uphill battle, and the editor Claire Bazin's ambitious intention to produce a volume "of interest to the general reader, the student and the academic" seems almost hopelessly naive. The fact that it succeeds even partially is therefore impressive.
Related Posts via Taxonomies