Reading Time:
3
minutes
ANN MASSEY tells us why Christopher Lee had such an impact on her love of all things spooky and introduces us to Christopher Lee's Fireside Tales – the Master of Horror bringing her favourite deliciously dark stories to life.
Since I was a child Christopher Lee has held a powerful magic for me, even though I was barely tall enough to peep over the couch when I saw him as Dracula for the first time. Obviously I was terrified, but also mesmerised by this deep voiced, charismatic man on my black and white television.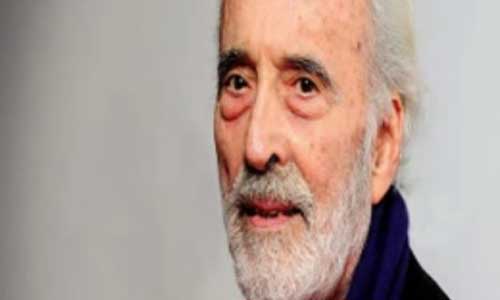 Over the years I have been fortunate enough to watch and fall in love with all of his characters from Sir Baskerville to Saruman and just when I thought I couldn't hold him in higher esteem he embarked upon a heavy metal career, completely sewing up my love of horror, science fiction/fantasy and metal.
There is one of his works however, that I carry with me everywhere I go like a comfort blanket, and that is the audio series, Fireside Tales. I transfer it to every audio device I have to listen to out walking or in bed and on my computer while I am working.
To have Christopher Lee, an artist who helped to cement my love of dark and fantastical film and television read out my favourite tales of horror and suspense whenever and wherever I want as about as good as it gets.
Fireside Tales is a radio broadcast of five different stories, all told in Christopher Lee's unique style, where the walls fall away around you and you are transported to the very fireside from where he reads some of the finest short stories of horror.
The Monkey's Paw by WW Jacobs
Set in the home of Mr and Mrs White and their son Herbert, Sir Christopher tells us of a visiting friend who has brought a monkey's paw from India which is supposed to grant wishes, however his own experiences were terrible enough that he sought to destroy it in the fire. Not heeding, White removes the paw and the repercussions are the very embodiment of the saying "Be careful what you wish for."
The Man and the Snake by Ambrose Pierce
A young scholar and socialite, having travelled extensively, searched for an ideal place to stay on returning to San Francisco that would meet his grandiose expectations. A scientist friend was residing in a large old house suited to his needs. Whilst reclining and reading, the young man was distracted by two beads of light in the shadows. What follows is a tale of fear and dread, where the beads of sweat and hairs on your neck standing up are more than just a turn of phrase – and a lesson in why you should never look under the bed.
John Charrington's Wedding by E Nesbit
Christopher Lee telling us of a wedding was never going to be cheery, however the story of a man journeying to a sick uncle just days before his marriage was doomed from the start. Despite a warning from his bride to be, Charrington makes the journey, determined to make it back for his wedding alive or dead.
The Man of Science by Jerome K Jerome
It begins with a discussion about witnessing a ghostly apparition and the possibilities of those with unfulfilled ambition returning from the grave to achieve their goal. It leads to the telling of how a wrongdoer may get away with their actions for a while and ultimately achieve success, in this case as a man of science, however no misdeed goes unpunished and revenge is best served cold… deathly cold.
The Black Cat by Edgar Allan Poe
When it comes to reading aloud stories from Edgar Allan Poe, Christopher Lee is the ultimate narrator as proven in this dark psychological horror. The main character of our story is the narrator, a caring man who is gripped by the personality changing addiction to alcohol and the catalyst for his demise is indeed a cat. Much like the Tell Tale Heart, one violent act sends the troubled alcoholic descending rapidly into madness and murder.
Each episode finished with a farewell from the legend so I will leave you with one: "This is Christopher Lee, wishing you a very good night, sleep well."
Christopher Lee's Fireside Tales: The Monkey's Paw