Reading Time:
5
minutes
RICK HALE links American writer Edgar Allan Poe's English connections as a young man to his love of the Gothic Horror
As a personal philosophy, I am not the sort of person who is bound by many traditions and rituals.
There is, however, one that I have indulged in every year on Halloween night since I was 12 years old.
No, I don't mean going from house to house banging on doors and asking for sugary treats while dressed as a pirate or a ghost.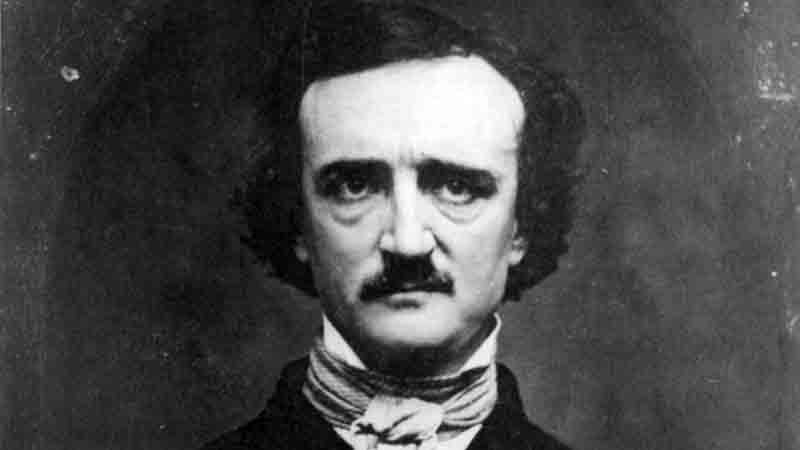 While that may he fun the tradition I speak of is reading the dark, gothic poem, "The Raven" by the 19th century master of of the Macabre, Edgar Allan Poe.
And reading this poem is something I shall do every year until the day I die.
Who was Edgar Allan Poe?
Edgar Allan Poe (1809-1849) is considered to be one of the great American literary figures and is responsible for introducing the United States to weird tales of dark, gothic romanticism.
Up until that time tales of crumbling castles haunted by the ghosts of their tragic pasts were not generally a theme in American literature.
Most American novels dealt with exploration and conquering the elements.
Tales of ghosts, haunted castles and immortal love were primarily found in books on the European continent.
And of course, Great Britain where telling creepy ghost stories on cold, snowy Christmas Eve nights were just as much a tradition as singing Christmas carols, mince pies and cheerful yule logs burning brightly on the hearths of people's homes.
However, it still begs the question, if Poe is responsible for bringing British gothic romanticism to the United States, what inspired him?
Poe visits Great Britain
Although born in Boston, Massachusetts, and later dying young in Baltimore, Maryland, the ancient city of London, England may be the city that inspired the brilliance of Poe.
As a child, Poe, spent his early years in Great Britain.
It was here that he was influenced to right the weird horror that he was most famous for. In July 1815, a very young and impressionable, Edgar Allan Poe journeyed across the Atlantic with his foster parents.
His foster father, John Allan, was a Scottish merchant who sought to re-establish his import business following the War of 1812.
Upon arriving in Liverpool, Poe and his family traveled north to Irvine, Scotland, to visit John's relatives before finally settling in London.
While residing in London, Poe and his family lived at no. 47 and no. 39 Southampton Row, Bloomsbury, London.
These two homes may have given the inspiration Poe needed as there were unconfirmed stories that both houses were known by the locals as being haunted.
Nevertheless, it would be the family's travels to the Isle of Wight, Cheltenham and Devon that would introduce the young boy to age old, moss covered castles with their crumbling battlements and of course, ghosts.
The Isle of Wight itself has a reputation for being home to a multitude of spectral inhabitants and has been called ghost Island. Spooky, even for a little boy who would one day be a master of terror.
When Poe began setting pen to paper and writing atmospheric stories of horror, he drew heavily upon his early years of living abroad with his family in England.
And nowhere is that more evident than in his immortal short story,
The Fall Of The House Of Usher. A dark tale of the demise of a family and one man's descent into the maelstrom of madness.
Using a backdrop of a haunted Manor like castle and clearly inspired by Horace Walpole's 1764 gothic novel, The Castle Of Otranto, Poe spins his web of terror.
The Fall of the House of Usher
Poe's story, The Fall Of The House Of Usher first appeared in Burton's Gentlemen's Magazine, September 1839.
The story begins with an unnamed man, a narrator, arriving at the Manor house of his lifelong friend, Roderick Usher, the last of an ancient line of British aristocrats.
Upon arrival on horseback, narrator is shocked to see the house of Usher has undergone a terrible transformation.
Once a beautiful, stately English style Manor now lay in near ruin as a crack ran from the roof and down the front of the building.
The state of the house was a perfect metaphor for the decline of the ancient Usher line.
When he entered the house, Narrator, discovers his friend is not just in physical decline, but mental as well.
Narrator further learns that Roderick's twin sister is dying from a wasting disease.
While in the library, Roderick, surely on the verge of insanity sings from the poem "The Haunted Palace".
The poem is an allegory of an ancient British king who fears that evil supernatural forces threaten him and his palace.
After singing, Roderick, confirms his friend's suspicion that he is out of his mind when Usher tells him that the Manor is alive and means him harm. Fear begins to take hold of Narrator.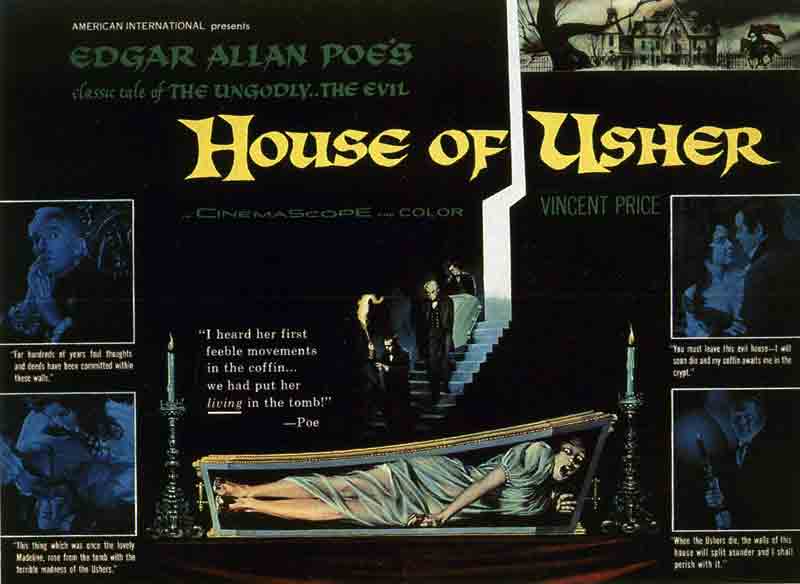 Later in the story, Roderick's sister, Madeline succumbs to her illness and dies.
The young woman who was once beautiful now looks like an old hag as she is laid to rest in the family tomb.
Following the solemn event a violent storm whips up and sends Roderick to his friend's room seeking safety and comfort from his only friend.
Wanting desperately to calm his friend down, Narrator, reads from the novel, "The Mad Trist".
The book tells the story of a knight named Ethelred who discovers a castle and a treasure guarded by a dragon.
By the end of the story Roderick, is somewhat calm but only for a short time.
After reading the story the unthinkable occurs.
A great gust of wind blows the bedroom door open, and standing on the other side is the resurrected, Madeline, Roderick's sister.
There are two prevailing theories on Madeline's return from the grave. One, she was buried alive, something that people of the 19th century commonly feared but rarely happened.
Or two, she was a revenant, a supernatural entity that arises to feed and seeks revenge, much like a Vampire.
According to the story, Madeline falls on Roderick Usher and kills him.
Narrator barely escapes with his life as the house splits in half and crumbles into the inky black waters of a small mountain lake.
When one reads The Fall Of The House Of Usher, and other works by Edgar Allan Poe you can really sense his love for British Gothic horror.
Without his stay in England as an impressionable young boy he more than likely would have never written these novels, short stories and poems that can only be enjoyed when the wind blows, the lightning cracks and ravens say, "Nevermore".